5 Easy Plant Based Dinners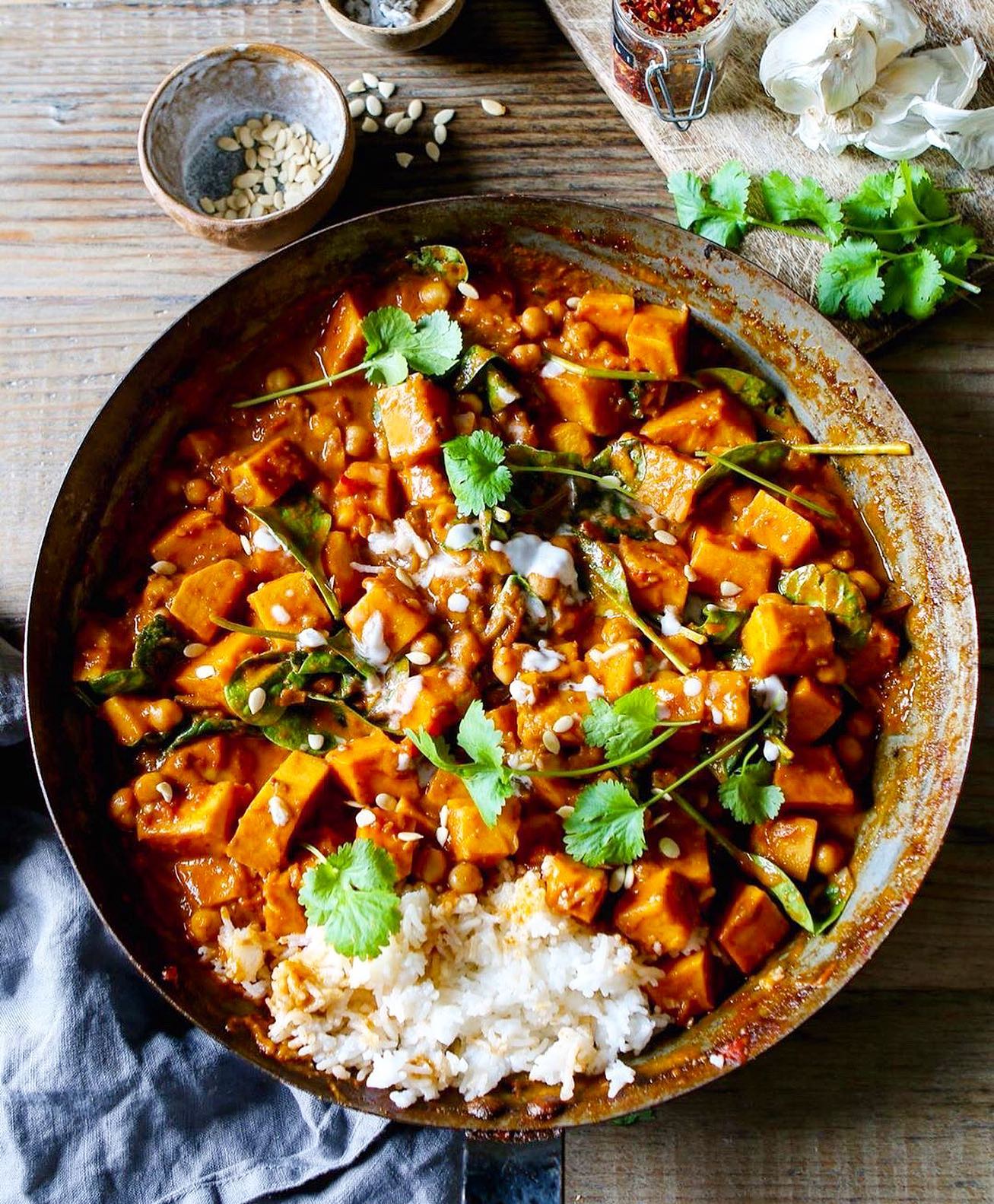 Looking to mix up your meals? Well look no further, nutritionist Hannah has 5 delicious plant based dinners - all made with ingredients found on our store - to help keep you happy and healthy. 
From a creamy, comforting pasta to a delicate, warm lentil salad, we've got something for every mood. 
Sweet Potato & Peanut Butter Curry (serves 4)
Ingredients:
2 garlic cloves
1 tsp ground paprika
1 tsp ground cinnamon
½ tsp ground chilli
1 brown onion
5 tbsp Pip & Nut Crunchy Peanut Butter
1 can coconut milk
1 can chickpeas
1 tbsp Vegan Honey
600g sweet potatoes
225g cherry tomatoes
3 handfuls of kale
Extra Virgin Olive Oil
400ml water
Organic Jasmine Brown Rice
Method:
To a pot, add oil and the tomatoes and leave to simmer on a low/medium heat until they become soft (about 15 minutes). Add the onion, garlic, spices and simmer for another 10 minutes.
Add the peanut butter, coconut milk, sweet potato, salt and pepper. Bring to a boil and then reduce the heat to a low/medium heat for 30 minutes.
Keep adding the water in small amounts.
When the sweet potato is soft and the sauce has thickened, add the kale.
Serve with brown rice.
Tofu Stir Fry (serves 4) 
Ingredients:
1 onion
2 garlic cloves
Thumb-sized piece of ginger, sliced finely
400g Smoked Tofu with Almonds and Sesame Seeds
1 head of broccoli
2 courgettes
200g mushrooms
Noodles or Rice  
For the sauce:
½ a tin of coconut milk
2 tbsp vegan honey
1 tsp cinnamon
4 tbsp soy sauce
1 tbsp almond butter  
Method:
Slice the tofu, broccoli and courgette into chunks and add to a pan with oil, fry for 10 minutes.
Meanwhile, make the sauce by adding all the ingredients into a small bowl.
Slice the onion, garlic and ginger and place into a wok with the sauce to cook down for a couple of minutes.
Add in the tofu, veg and cook together for 5 minutes making sure to mix around the sauce.
Serve with brown or cauliflower rice. 
Veggie Pasta (Serves 4) 
Ingredients:
1 red pepper
1 yellow pepper
1 tbsp tahini
3 tbsp tomato puree
Pine nuts
2 garlic cloves, chopped finely
1 tsp ground coriander
Tofu or This Isn't Chicken
Spelt or Brown Rice Fusilli Pasta
Palace Culture Plant Based Cream Cheese (flavour of choice)
2 handfuls of spinach  
Method:
Preheat oven to 180℃. Roast the peppers in olive oil, salt and pepper for 35 minutes until soft.
Meanwhile, boil the pasta for 10 minutes and in a separate pan, fry the 'chicken' in olive oil and chopped garlic until golden and crispy.
Drain the pasta.
Transfer the roasted peppers to a blender with the tahini, tomato puree, pine nuts, coriander and a dash of olive oil.
Mix the pasta, 'chicken' and sauce together. Add in a big dollop of the cream cheese and stir in the spinach. 
Warm Lentil Salad (Serves 3-4) 
Ingredients
1 onion, roughly chopped
2 cloves of garlic, chopped finely
200g mushrooms
1 tsp paprika
1 tsp cinnamon
500g sweet potato
2 tins of Biona Organic lentils
2 handfuls of spinach or kale
2 tbsp Violife creamy original cheese
1 lemon  
Method:
Roast the sweet potato in the oven for 25 minutes at 180
℃
in paprika and cinnamon.
Gently sauté some onion and mushrooms in a pan with olive oil, garlic for 10 minutes until soft.
Drain the lentils and add to the pan. Add the spinach and kale and leave to soften.
In a large bowl, combine the onion/lentil mixture with the sweet potato. Add a heaped tablespoon of the cream cheese and the juice of half a lemon.
Mediterranean Veggie Tagine (serves 6)
Ingredients:
Thumb size piece of Ginger
3 Garlic cloves
1 tsp ground cumin
1 tsp all spice
2 tbsp Rose Harissa Pesto
300g Courgettes
300g Carrots
200g Cherry Tomatoes
3 Mixed Peppers
1 onion
1 tin of chickpeas
30g Activated Tamari Almonds, chopped
Couscous

Method:
Place the garlic and ginger in a large casserole dish with 2 tablespoons of olive oil, cinnamon and all spice.
Add the tomato paste and half of the chopped almonds, fry for a few minutes.
Pour in 500ml of water and add the prepared vegetables. Tip in the chickpeas (with the water) and add salt and pepper. Bring to the boil, cover the dish and reduce the heat to a low simmer for 45-50 minutes while stirring occasionally.
When the vegetables are tender, cook the couscous and serve it with the tagine.
Sprinkle the remaining chopped almonds.
So mix up your meals this week and try your hand at these recipes