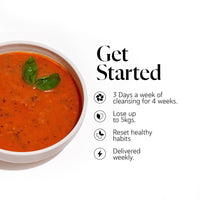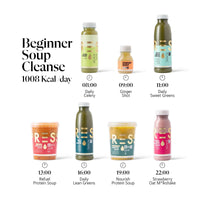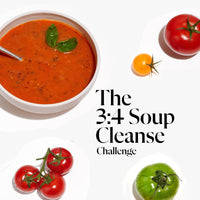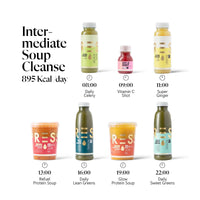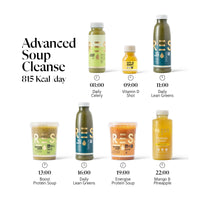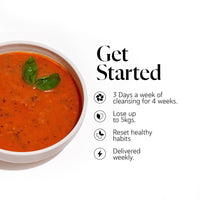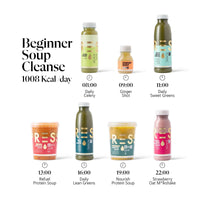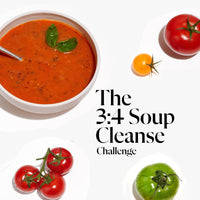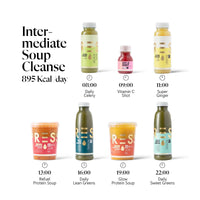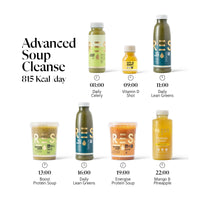 The 3:4 Soup Cleanse Challenge
Real change takes time and commitment. Which is why we created our 3:4 Cleanse Challenge. It's the perfect way to kickstart weight loss and reset your healthy habits, with 3 days of cleansing, every week, for 4 weeks.
How it works: Simply choose your 3-day cold-pressed soup cleanse, pick your delivery day and get started. Opt to cleanse 3 days in a row or spread the days out throughout the week - whatever suits your schedule the best.
Delivery details: Each week, we'll deliver your 3-day cleanse, on your chosen delivery day. While we recommend cleansing on Monday-Wednesday, you will experience all the juicy nutritional benefits no matter what days of the week you choose.
Perfect for: anyone who is looking to completely change their lifestyle. It's guaranteed to reset your healthy habits, will kickstart sustainable weight-loss, reset your digestion and boost your energy levels naturally.
What it Does.
We find this schedule of cleansing the most sustainable, long-term, weight loss solution. It means you're able to continue eating the foods you want to for 4 days, while guaranteeing you will be in a calorie deficit for the remaining 3 days of the week.
Allergens

This cleanse contains products containing Celery and Oats.

Some products are made in a factory that handles nuts, sesame seeds, milk, soya and cereals containing gluten.

Please see individual product pages for specific product information or contact our team if you have any further questions.

Delivery

Our delicious cold-pressed juices and cleanses are delivered fresh directly to your home or office Monday - Sunday in specialised packaging.

Standard Shipping is free over £45, otherwise £5.95.

If you'd like Morning Delivery (pre 12pm) guaranteed - £7.95.

Storage Info

PRESS items arrive in a chilled box, please refrigerate all products on arrival.

All our products will have a minimum of 7 days of shelf life when they reach you.

Once opened, keep refrigerated and consume within 2 days. Always refer to the expiration date of each container.


More Questions? Our friendly customer service team is always here to help