It's Summer Salad Time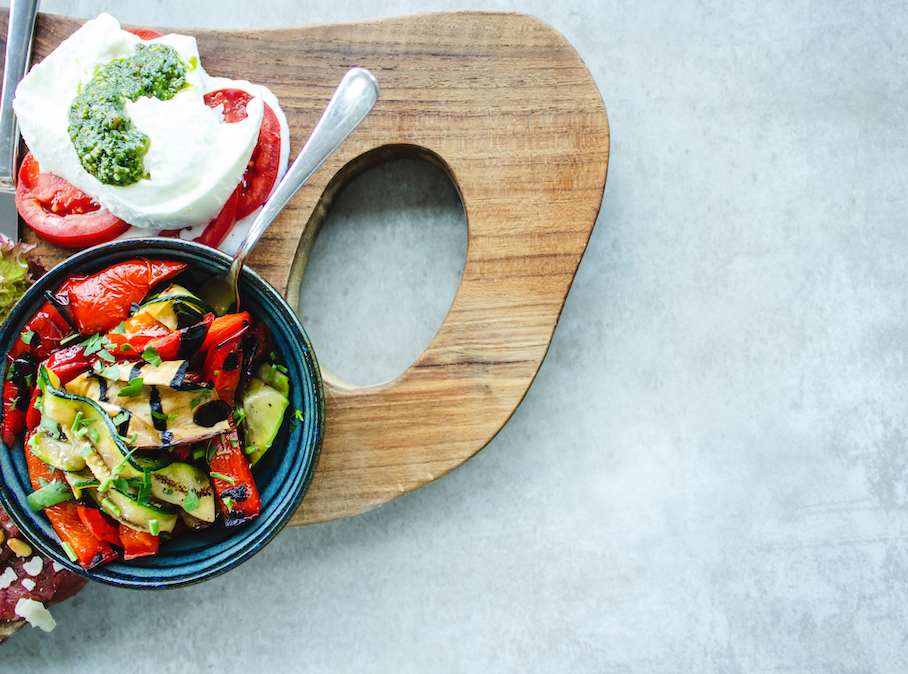 With the warmer weather fast approaching, now is the perfect time to stock up on some fresh plant-based goodness to make some cooler salad dishes. We recommend going for dried pastas as they work much better in salads and also add the leaves last so that they don't wilt. 
Roasted Aubergine & Rose Harrissa Pesto Orzo Salad With Roasted Peppers & Olives
INGREDIENTS
250g of orzo

1 jar of sun-dried tomatoes

1 bunch of basil

1 aubergine, quartered lengthways and scored 

2 cloves of garlic

50g of parmesan cheese (or veggie alternative) 

Splash of olive oil

2 red peppers, cut into strips

1 jar of pitted olives

Rocket

Salt and freshly ground pepper 
METHOD 
Preheat oven to 180°C. 

Roast the peppers on baking tray with olive oil and salt and pepper.

On a separate baking sheet, roast the aubergines with olive oil and salt and pepper. Roast for around 20 minutes or until soft.

Bring a pan of water to the boil and salt generously. When boiling, cook the orzo according to the packed instructions, drain and allow to cool – add some olive to prevent it sticking together.

Once the aubergine is soft, you can make the pesto. In a jug with a stick blender, place the sun-dried tomatoes (and their oil), parmesan, garlic, chopped roasted aubergine, basil and garlic. Taste and season accordingly.

Place the orzo and pesto in a bowl and mix well, add the peppers, olives and some rocket or fresh basil. 
Sun-Dried Tomato, White Bean & Vegan Mozzarella Cheese Pasta Salad With Homemade Basil Vinaigrette
INGREDIENTS
½ pound of short cut pasta

½ jar of oil packed sun-dried tomatoes, chopped

½ bunch of asparagus, cut into 1 inch pieces

2-3 oz of vegan mozarella

½ can of white beans, drained

½ avocado, sliced 
For the vinaigrette:
1 bunch of fresh dill

1 tbsp of lemon juice

½ tbsp of red wine vinegar

½ clove of garlic, smashed

¼ cup of extra virgin olive oil

½ cup of fresh basil

1 bunch of fresh chives

¼  tsp of crushed red pepper flakes, adjust according to your taste

salt
METHOD
For the vinaigrette, combine the basil, chives, dill, lemon juice, vinegar, garlic, olive oil, red pepper flakes and salt in a blender. Blend until smooth. Adjust the salt and pepper flakes as needed.

In a large pot bring salted water to a boil. Cook the pasta according to the instructions. You can use fusilli or your favourite kind. Al dente works best so you can cook it 1-2 minutes less than what instructions say. During the last 2-3 minutes of cooking, add the asparagus. Drain the pasta and asparagus and add the mix to a serving bowl.

Toss the hot pasta and asparagus with the crumbled feta cheese and a couple spoonfuls of the basil vinaigrette, toss until they mix well. Add the tomatoes and white beans and toss to combine. Top the pasta with the sliced avocado. You can serve this warm or cold with the remaining vinaigrette on the side.
Smokey Sweet Potato & 'Sausage' Pasta Salad
INGREDIENTS
4 Meatless Farm Sausages, cut at a diagonal

2 tbsp of Rose Harissa Pesto

1 tsp of olive oil

6 cherry tomatoes, quartered

180g of dried pasta such as fusilli or penne, cooked according to instructions

125g of vegan mozzarella, cut in slices 

A handful of washed rocket leaves

¼ tsp of freshly ground black pepper 
METHOD
Toss the vegetarian red pesto, olive oil and tomatoes together. Mix in the Smokey Sweet Potato & Red Pepper Sausages and the pasta. Combine well. 

Fold in the (optional) mozzarella. Sprinkle over the rocket leaves and the black pepper and serve immediately

The salad can be kept in the refrigerator covered for 2-3 days. 
Check out more tasty and nutritious recipes on Hannah's Instagram page (@livewellwithhan). Please tag us on Instagram or give us a quick email if you want to share any of our recipe creations, we always love hearing from you!