fitness
The Best Gym Bags For 2018: Carry Your Gym Bag With Ease & Style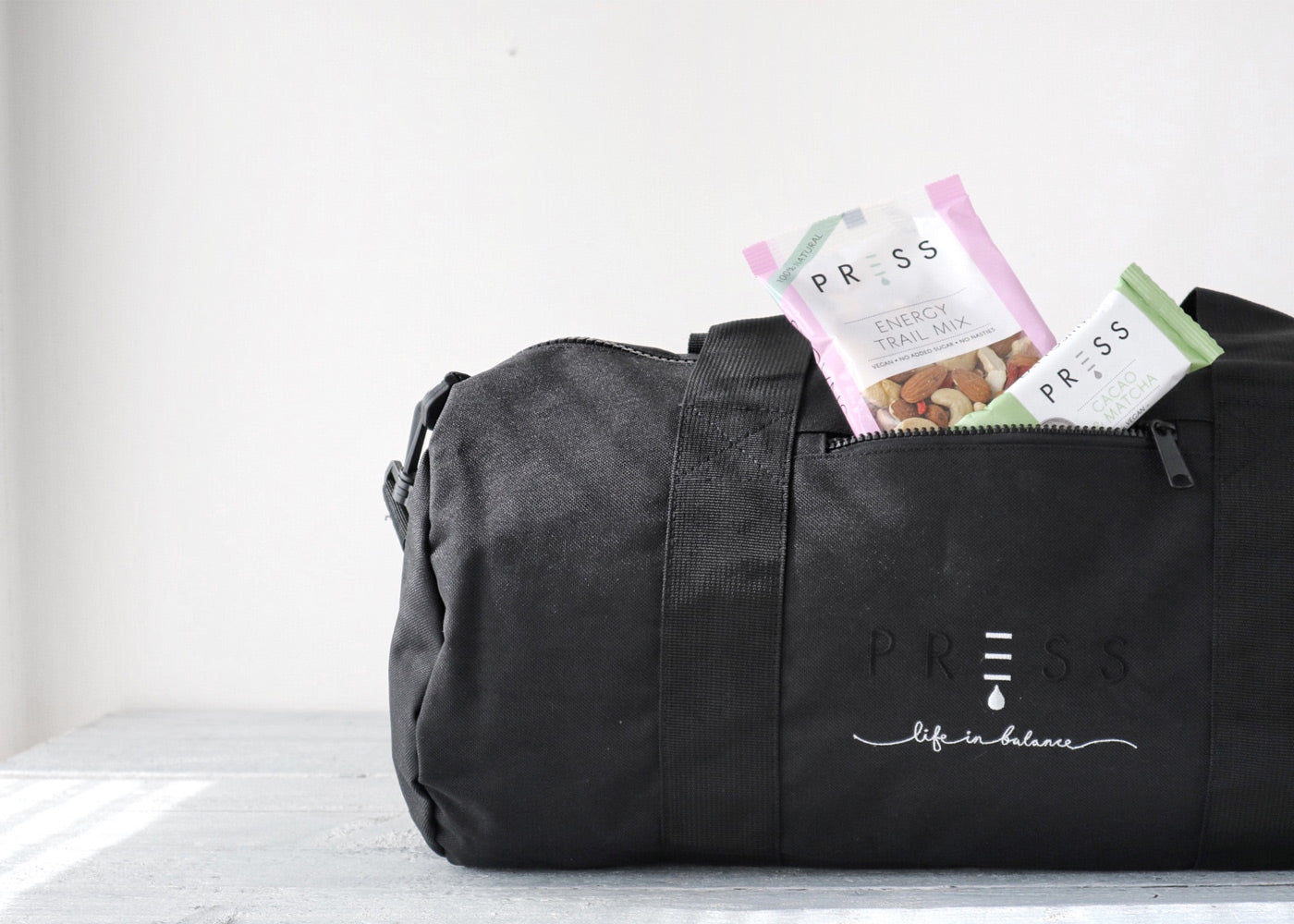 If you've ever had that awkward moment where you've pulled your notebook out of your bag and your spare pair of post-workout knickers have come flying out along with it, you'll know the benefit of having a separate bag to toss all your gym kit into.
Not only will it spare your blushes (and stop your makeup and your wallet getting damp and sweaty), but it can also act as great motivation. Pack your gym bag the night before and leave it at the door so you have no excuse to bail in the morning.
Whether you're a gym bunny, a run-commuter, a serious swimmer or a barre-to-bar kind of gym goer, we've got you covered with our roundup of the most stylish and functional gym bags for 2018.


The Best Value 
Everyone wants the latest, coolest gym accessories but finding something in-between splashing out on the latest designer bag (purely to keep your sweaty clothes in) and the cheapest you can find, is well.. a real sweat. PRESS' Gym Bag meets that
want
and
need
bang smack in the middle; it's both beautiful and affordable! 
PRESS | GYM BAG £30 | PRESS-LONDON.COM
The Running Backpack 
If you like to get your workout in on your way to work, this is the gym bag for you. A favourite of runners and cyclists, this backpack is made of scuba fabric, meaning it's really light and comfortable and won't start to smell after a few uses. Chest straps let you get the perfect fit so it won't chafe or bounce around, while a
special water pack compartment, plus six inner compartments that fit everything from your laptop to your makeup ensure your commute will be both healthy and stylish.
The Budget Buy
For the price, this gym bag from Lonsdale should not be overlooked. Available in ten colours, there's a style for everyone (we particularly like the grey and orange and the blue and white colourways for that retro gym look). This gym bag is a great size for lockers and the main compartment will easily carry all of your gym gear. There's also an additional side pocket for accessories, as well as an adjustable shoulder strap.
 
The Non-Gym Bag
Ok so it's not technically a gym bag but this iconic bag works harder than anything on the market and no one will ever know it's full of your sweaty workout gear. Lightweight and spacious, it will easily fit all your kit, and the sturdy nylon makes it durable and wipe clean. Plus, when it's not being used as your gym bag it can double as beach bag, shopping bag or airplane hand luggage. It's classic, chic and now you can even personalise it by choosing your own colour combinations and adding a discreet monogram. Non-gym bags are the new gym bag. (Hint: buy it at the airport for the duty-free discount).
LONGCHAMP | PLIAGE £75, FROM £85 FOR PERSONALISATION | LONGCHAMP.COM
The All-Rounder
This simple but stylish gym bag has everything you need at a great price. An internal wet gear compartment is perfect for keen swimmers who need to keep everything else dry, while an additional front pocket and inside water bottle pocket (which doubles as an umbrella holder) keep everything in order. Made of durable polyester with an adjustable shoulder strap, it's a great size for the locker and an all-round excellent choice.
REEBOK | GRIP DUFFLE BAG £25 | REEBOK.CO.UK
The Luxury Bag
Previously known as GymTote, this British based brand has created a range of beautiful bags ideal for gym-to-office days.
 Although it combines both gym and work bags, the separate pockets neatly sidestep the aforementioned awkward knickers issues – your sweaty kit is hidden in a back pocket, dirty trainers are kept in a ventilated section at the side and your water bottle won't leak on your work documents with its own spill-proof bottle holder. Plus it has its own patented anti-smell technology and breathable compartments to reduce bacteria - all while looking unbelievably stylish. It's a win-win for us.
Dominique Cutts, Personal Trainer