eat & drink
The Best Christmas Sandwich of 2018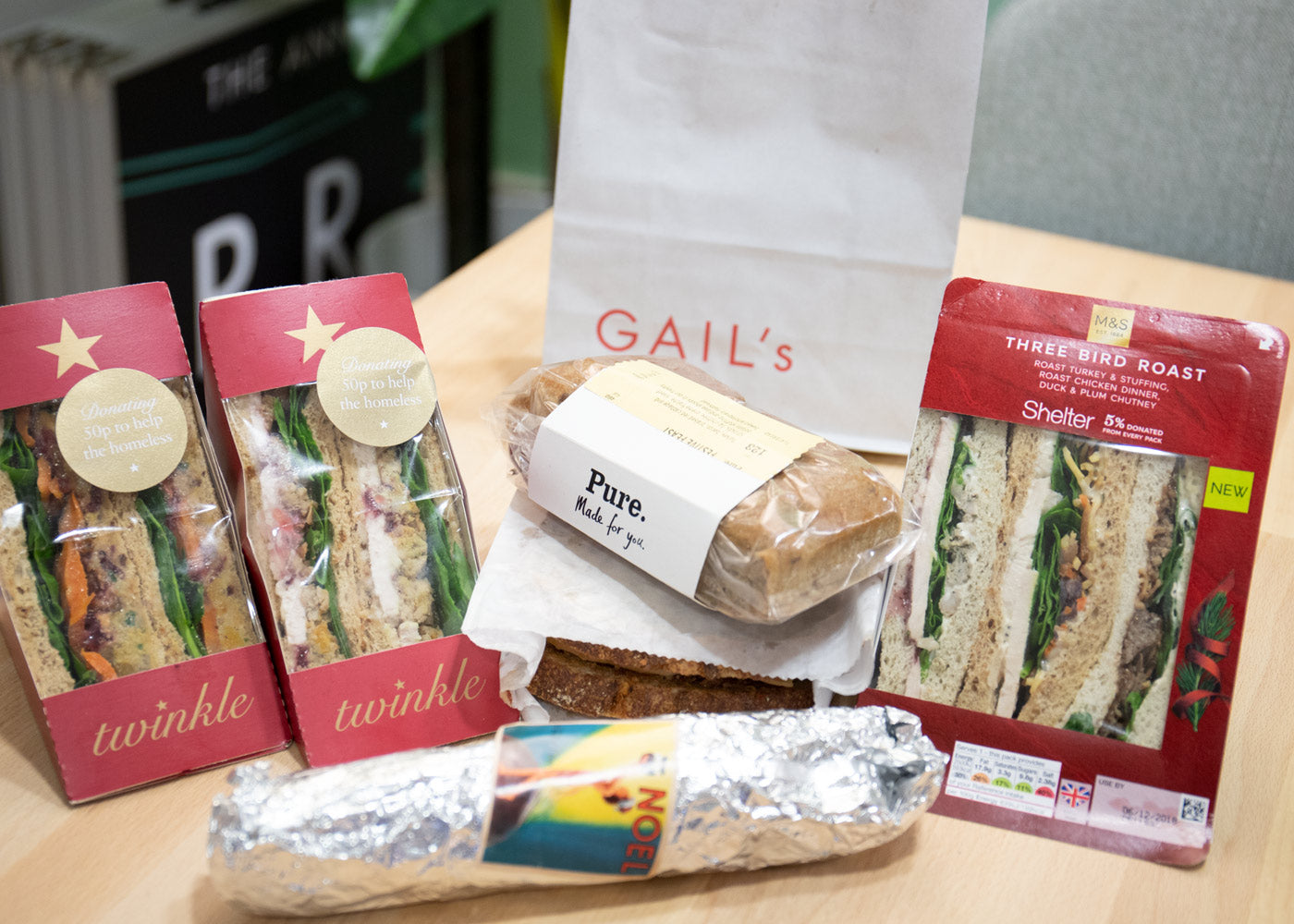 Who comes out on top of the festive sarnies?
During November, the Digital Team at PRESS were bombarded with marketing and high street food hype, trying to sell us their 2018 Christmas sandwich specials. We, therefore, felt that it was only right that we went out and sampled all of them, to decide who's doing it best this December. We marked on packaging, flavour, ethical gestures, price and overall 'Christmassyness'.
To save you wasting valuable calorie allowance here is the comprehensive guide of the worst, to the very best Christmas sarnies.
Starbucks - "Turkey Feast" Panini
"Starbucks nearly ruined Christmas with this." - Jamie
We struggle to know where to begin with what is probably the least deservingly named 'feast' of all time. It was underfilled, tasted bad and was still pretty expensive at £4.25! The ingredients were very low quality and it certainly didn't fill us with the warm, fuzzy joy that a proper Christmas sandwich should. The packaging didn't recover any points either; without a festive mention or taste that resembles Christmas, we found it hard to see why this was different to a regular Starbucks sandwich. Stick to the Christmas Brulée latte.
Pret a Manger  - Very Merry Christmas Lunch (Vegan)
Pret have set the bar pretty high with their variety of Christmas products this year, however, their Vegan sandwich was a major disappointment. The sandwich used grilled carrots as a base, but it was topped with so much other sweet stuff that it really ruined this sandwich. We were all for the charitable donation and the obvious ethical benefits vegan food has, but the flavour was really poor. There are definitely better things to
eat at Pret
.
M&S 3 Bird Roast - Roast turkey & stuffing, duck & plum chutney, and roast chicken dinner
This isn't just a selection of three incredibly festive Christmas Sandwiches, this is… um, a little disappointing. We're sorry, we love a Marks & Sparks sandwich as much as the next millennial, but this felt a bit
lacklustre
. We've previously been a huge fan in the Turkey Feast from M&S, however, it
 didn't measure up to its shelf-mate. It's a lazy attempt at something that could be quite spectacular, but top marks for flavour creativity, its charitable donation (5% of every sale going to help Shelter this year), and very competitive pricing, so we do recommend the M&S Christmas food range, we're not knocking it out entirely.  


Leon - The Christmas Wrap
Not so much a Christmas sandwich, more a festive wrap… Leon's really taken pride of place on London's high streets over the past few years, churning out naturally fast food. Their wraps are brilliant, made to a high standard, and this was no exception. The turkey and ham hock, paired with a pork, sage & onion stuffing evoked memories of boxing days past. The cranberry and clementine sauce was tart and sweet, giving layers to the flavour. Where they excelled in taste, they fell short on "Christmassy-ness" for us. We really enjoyed it, but it's not taking the turkey crown.


Pure - Festive Feast
This was an unexpected treat. Upon the first viewing of Pure's Christmas sandwich, we weren't excited. It looked like a brick of brown bread (weighed like one too) with a careless smattering of fillers, a few stray bits of red cabbage, bound in a cellophane pack. If life has taught us one thing, it's not to judge a book by it's cover, because of this sandwich... the flavour was incredibly balanced, with a tasty fig relish in there. It epitomised childhood Christmases: you go to open a present and you're terrified that it's going to be another 1000-piece puzzle of a Northumbrian landscape; as you unwrap it, you soon realise that you were definitely on Santa's nice list this year.

EAT - Christmas Roast Turkey in a Yorkshire Pudding Wrap
"Maybe everything should just be put inside with a Yorkshire Pudding?!" - E.
EAT really pulled out the stops with this Christmas wrap. They replaced the wrap with a YORKSHIRE PUDDING… This is not a drill! Why haven't you immediately left this article to purchase one?! Apart from huge points on creativity, served warm, the flavour was great, lots of Christmas tastes including the essential stuffing and cranberry sauce, the packaging did let it down somewhat and left us being unable to position this masterpiece any higher than 3rd.
Gail's Bakery - Turkey & Cheese on malted bread
Probably the least commonly occurring high street store in our list, the very artisanal Gail's bakery produced one hell of a sandwich. Without doubt the least traditional Christmas sandwich in our leaderboard, the stonking bread was partnered with thinly sliced turkey, swiss cheese and a delectable chipotle aioli,
spicy.
Despite being £5, it felt the most cared for and nicely made sandwich, so we implore you try it regardless of the higher price.
WINNER: Pret's Christmas Lunch (Meaty)
"It's like the Angel Gabriel's come to Earth again and made this sandwich himself... I'm never eating another sandwich again." - Max
Goodness, where do we begin? Pret have simply made the exact sandwich that we had wanted to eat. The flavour was great, the textures were perfect, the packaging was Christmassy and recyclable AND they donated 50p of every sandwich to charity. What more could they do? (nothing is the answer). Well done Pret, this really is the turkey sandwich that we should all be
gobble
gobbling
this Christmas.