inside scoop
Our game-changing plant-based meals have arrived.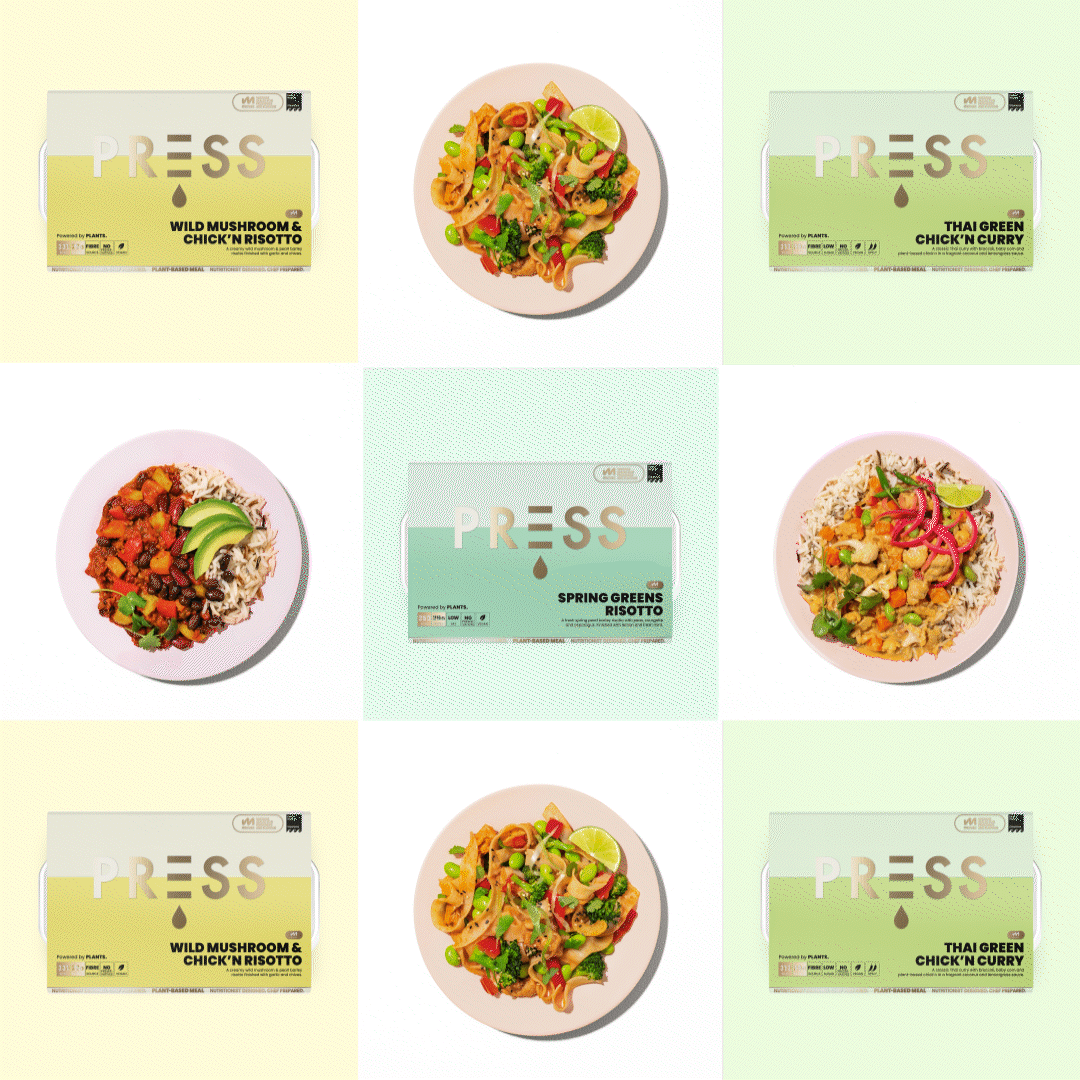 Introducing our new range of healthy, nutritious, 100% plant-based meals!
For the last eight months we have (quite literally) been cooking up a few secrets. We're so excited to introduce our new game-changing range of healthy, nutritious, 100% plant-based meals. Delivered directly to your door and ready to eat in minutes — whether you're looking for an on-the-go nutritious meal or simply want a hassle free convenient dinner, our new meals have you covered. 
The PRESS Meal Range
Taking inspiration from cuisines all around the world, we've put an innovative, healthy and plant-based twist on the classics:
Spring Greens Risotto
Thai Green Chick'n Curry
Wild Mushroom & Chick'n Risotto
Korean Gochujang Noodles
Keralan Coconut Curry
Chilli Sin Carne 
The game-changing elements:
We wanted to create a range of meals that were genuinely good for you and your health, with zero compromise made to flavour or freshness — bringing global flavours to your kitchen table. 
Every meal is:
100% plant-based

Nutritionist designed

Macronutrient balanced

Calorie controlled (all meals range from 280-580 calories)

High protein (up to 28g protein per meal)

Low saturated fat 
Other Key Features:
Fresh, never frozen

Have no added preservatives or artificial ingredients

Innovative vacuum-sealed technology locks in the nutrients and flavours for up to 60 days

Fully recyclable packaging
Our Planet-Positive Pledge
At PRESS we're on a mission to create a healthier, happier world, powered by plants. Everything we do is about encouraging people to make better choices for themselves and the planet. Given that going plant-based just one day a week is one of the most impactful things we can individually do to build a more sustainable future, we're hoping that our new range of plant-based meals will help make that first step even easier (and more delicious). 
Our planet-positive pledge doesn't stop at the food:
Plastic Neutral Packaging: 
Every product we deliver is 100% recyclable, by you, at home.

Our meals arrive in fully kerb-side recyclable packaging - even the film - and are delivered in boxes made from 100% recycled card. 

We've partnered with CleanHub, an incredible organisation on a mission to free our planet from plastic pollution. For every bit of plastic we use, we've pledged to collect the equivalent amount before it reaches the ocean floors. This means that where we're unable to be plastic-free, we are still creating a net balance on our plastic footprint. Read about our journey here. 
We're so excited for this next era of PRESS - helping to bring healthy, plant-based nutrition, direct to your door. Stock up your fridge with our new plant-based meal range today, and enjoy hassle free nutrition for weeks to come.