eat & drink
The Best Vegan Easter Chocolate Gift Guide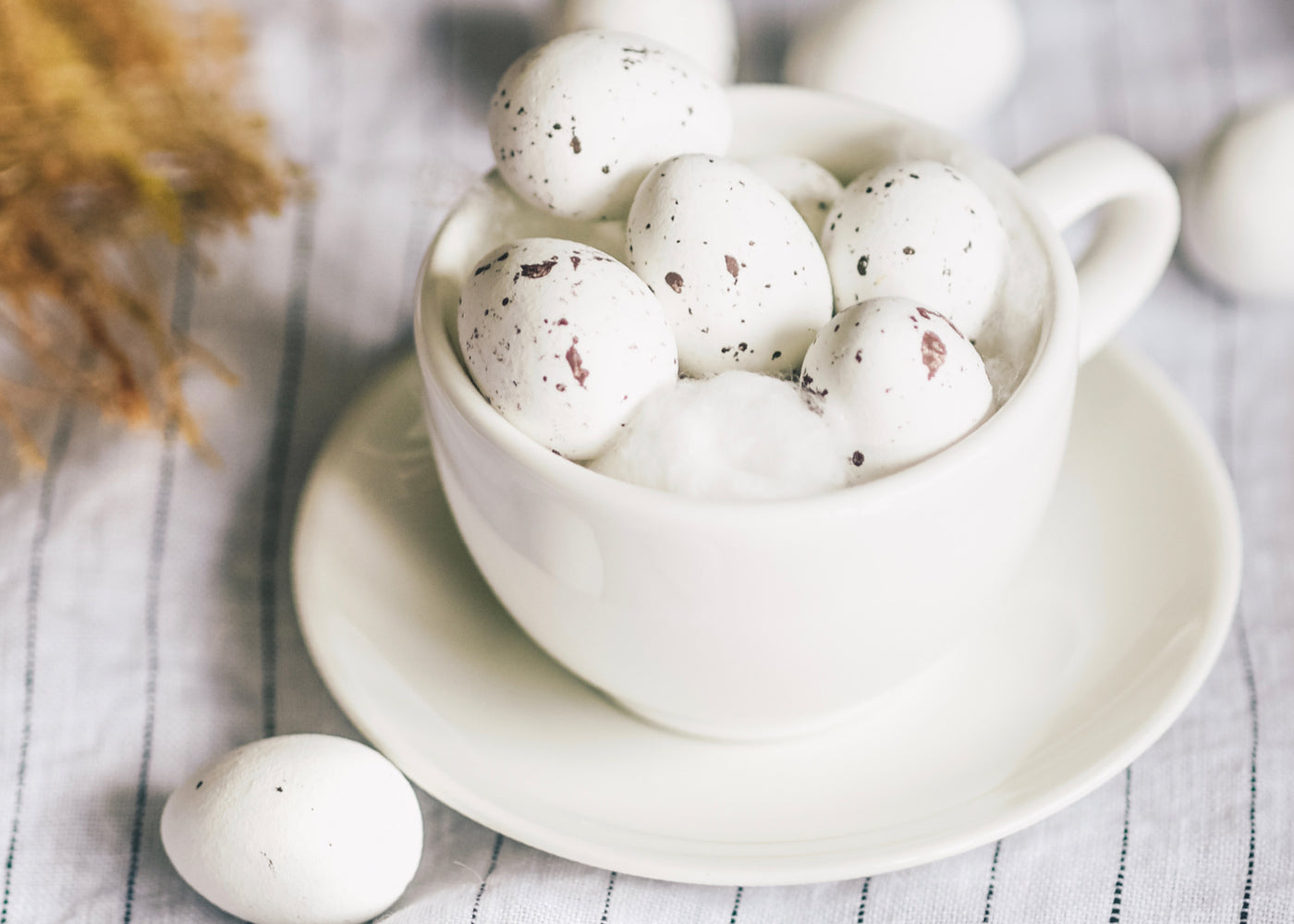 Easter is the perfect time of the year to indulge in your favourite chocolatey delights. While we have reviewed the healthiest and most delectable Easter eggs of 2018, we have also compiled the best vegan (and eco-friendly) Easter eggs and chocolates of 2019 so you can feast your eyes and appetite this holiday! 
1. Divine Dark 70% Chocolate Foiled Easter Mini Eggs
What better place to start than these luxury dark chocolate Divine mini eggs?! If you're not tempted to eat them all yourself, these are great for Easter egg hunts for the little ones, too. At Divine, the cocoa farmers also owns 44% of the company and share in the profits so be assured that they are ethically sourced!
For a luxurious Easter egg, opt for the Hotel Chocolat's Extra-Thick Easter Egg! Instead making their eggs as thin as possible, they did the opposite with lavishly thick shells that are the epitome of indulgence. For the ultimate Easter egg experience, they have also wrapped it in gold foil for a glint of anticipation when you untie the ribbon and lift the lid, which is filled with single-origin Luxe Nuts and buches!
3.

 Divine Pink Himalayan Salt Dark Chocolate Easter Egg
Made from Divine's signature smooth Fairtrade chocolate, this particular chocolate egg embodies Easter with a twist – a Himalayan salt twist. The striking dark chocolate, juxtaposed with the satisfying kick of Himalayan salt is Vegan Society approved - so it's a treat on everyone's lips – literally!
4. 

Chocally Vegan Fried Chocolate Egg Lolly with Runny Yolk
What is a fried egg without a runny yolk? Enjoy Chocally's vegan dark chocolate fried egg lolly, which comes with a lemon fondant gooey centre waiting to pop! It's a perfect kind of eggy to have in the morning because chocolate is a good idea no matter the time of the day. 
Making sure Easter is even more chocolaty than it already is, Sweet Couture has created a dairy-free alternative to hot chocolate to pair with your Easter eggs! Along with a vegan chocolate spoon to swirl in hot water, it also comes with a cute chocolate bunny and carrot to celebrate the festivity to its fullest.
Another chocolate drink that will leave you more than satisfied this Easter is our Cacao Leche Nutmilk! It also happens to bring about massive benefits; the almond milk provides vitamin E, a fat-soluble antioxidant that contributes to the protection of cells from oxidative stress. So it doesn't just taste good, but it will make you feel good too!
6.

 Mommy Meagz Creme Egg
Mo(o)ve over Cadbury, it's time for Mommy Meagz to shine! Taking over the internet by storm, Mommy Meagz' dairy, soya and gluten-free creme egg cream egg is impossibly indulgent and handmade with love in the UK. It's a perfect free from sweet treat for yourself or a loved one this Easter (and TWICE the size of a 'regular' creme egg!).
7.

 Divine 70% Dark Chocolate Luxury Easter Egg with Mini Eggs
For another luxurious eggs in egg experience, Divine's Dark Chocolate Luxury Eggs with Mini Eggs is my number one choice! Often a delicious Easter egg is eaten and over with so quickly, but not this one 😉. Each egg also comes wrapped in recyclable foil and therefore no plastic is used in the packaging at all - talk about an eco-friendly Easter egg!