recipes
Vegan BBQ & Grilling Ideas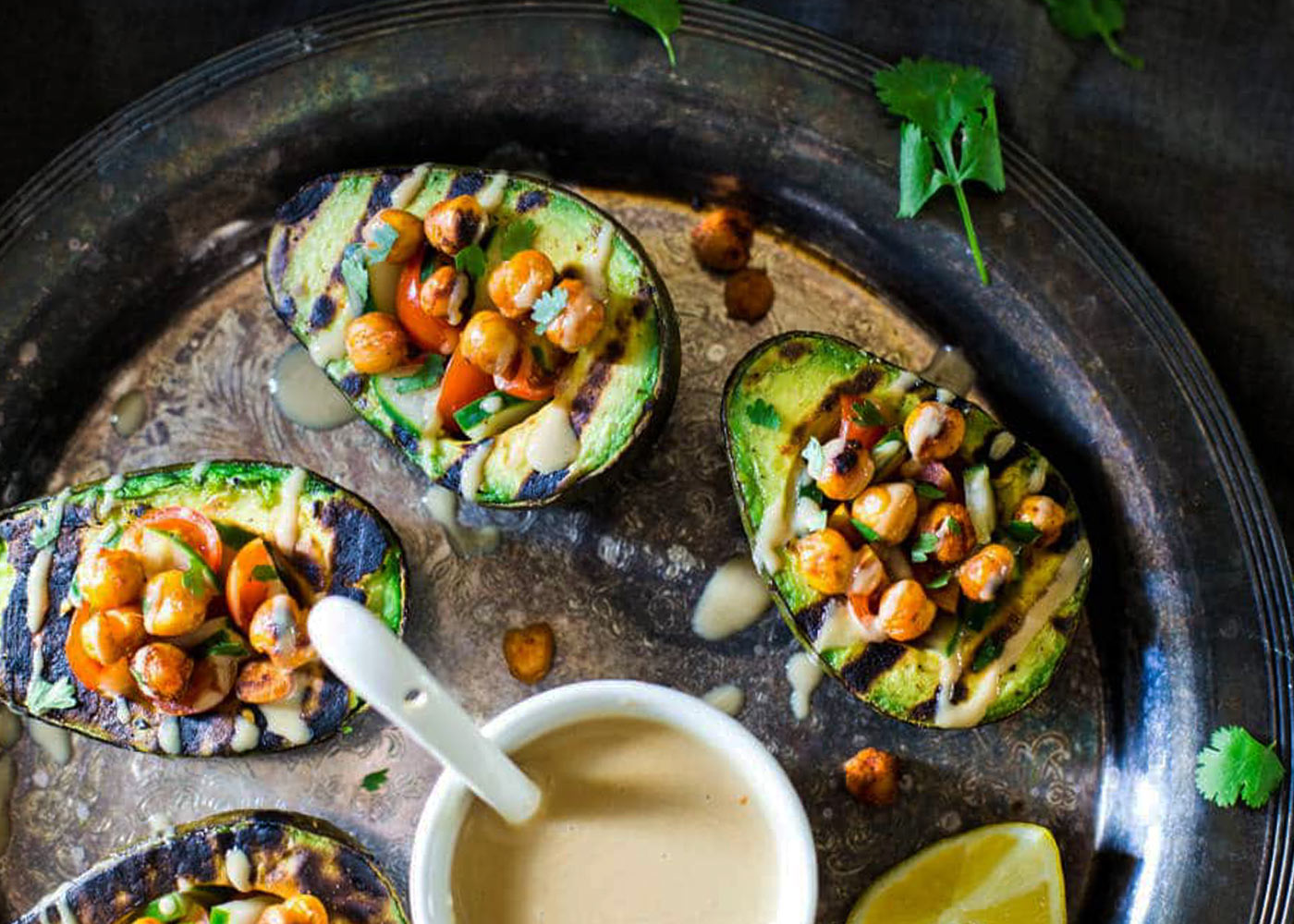 With lots of vibrant veg & flavour-packed burgers, whether you're a meat eater or not, grills were made for so much more!
The sun has finally decided to appear, with temperatures set to be the hottest we've seen since (forever) last August in much of the UK. 
Whilst this means that barbecue season has begun, if you're vegan, summer socials don't have to be tricky to navigate. So fire up the barbie, with lots of vibrant veg, seasonal salads and flavour-packed burgers, whether you're a meat-eater or not, grills were made for so much more...


Grilled baby potatoes with lemon herb dressing
Grilled aubergines with grated 'mozzarella'
It's a fact of life that actual mozzarella or halloumi cannot be vegan, but we reckon this vegan imitation is not bad at all, the problem sometimes is the lack of flavour, so you're definitely best off barbecuing this recipe from Violife. 
Mediterranean grilled avocado stuffed with chickpeas and tahini
A super creamy avocado with a little bit of smoky grill action... this is tasty food.
Grilled Cauliflower Tacos with Mango Slaw & Avocado Crema
Everyone wants to eat lighter when it's hot outside and this recipe from Lauren of Hot For Food Blog has come up with a clever meat-free take on fish tacos.
Griddled Sweet Potatoes with Mint, Chilli & Smoked Garlic
Smoked garlic has a milder flavour than raw garlic and therefore adds a beautiful BBQ-style taste to a dish. Pair this with griddled sweet potatoes to create a charred caramel flavour. 
BBQ Tempeh Sandwiches
From the cookbook solely dedicated to Vegan Barbecue (
VBQ
).
Chargrilled Cauliflower Salad With Lentils & Pomegranate
A delicious, crunchy salad, perfect to accompany any barbecue dish this summer. The cauliflower is lightly chargrilled, giving it that smoky flavour, then it's tossed with warm, lemony lentils and topped with fresh broccoli, radishes and pomegranate seeds!
Spicy crispy breaded tofu strips
This easy crisped tofu needs just a few minutes of cooking time. Brush the marinade on the Tofu strips and let it sit for a while, then bread and grill. Serve as a side or main with a side of salad or rice.
Easy Grillable Veggie Burgers
No summer barbecue is complete without a
juicy
burger. Veggie burgers are usually hard to grill due to their fragile texture but this recipe requires just 10 ingredients and the rice is what holds it together. You get that perfect 'char' and blackening on the grill, not to mention that each burger has nearly 14 grams of protein!
Smokey Seitan Kebabs With Peanut Sauce
This smoky kebab recipe uses easy homemade seitan instead. Topped with peanut sauce and served with fresh lime and herbs, it's deliciously flavoursome.