The Best Plant-based Pancakes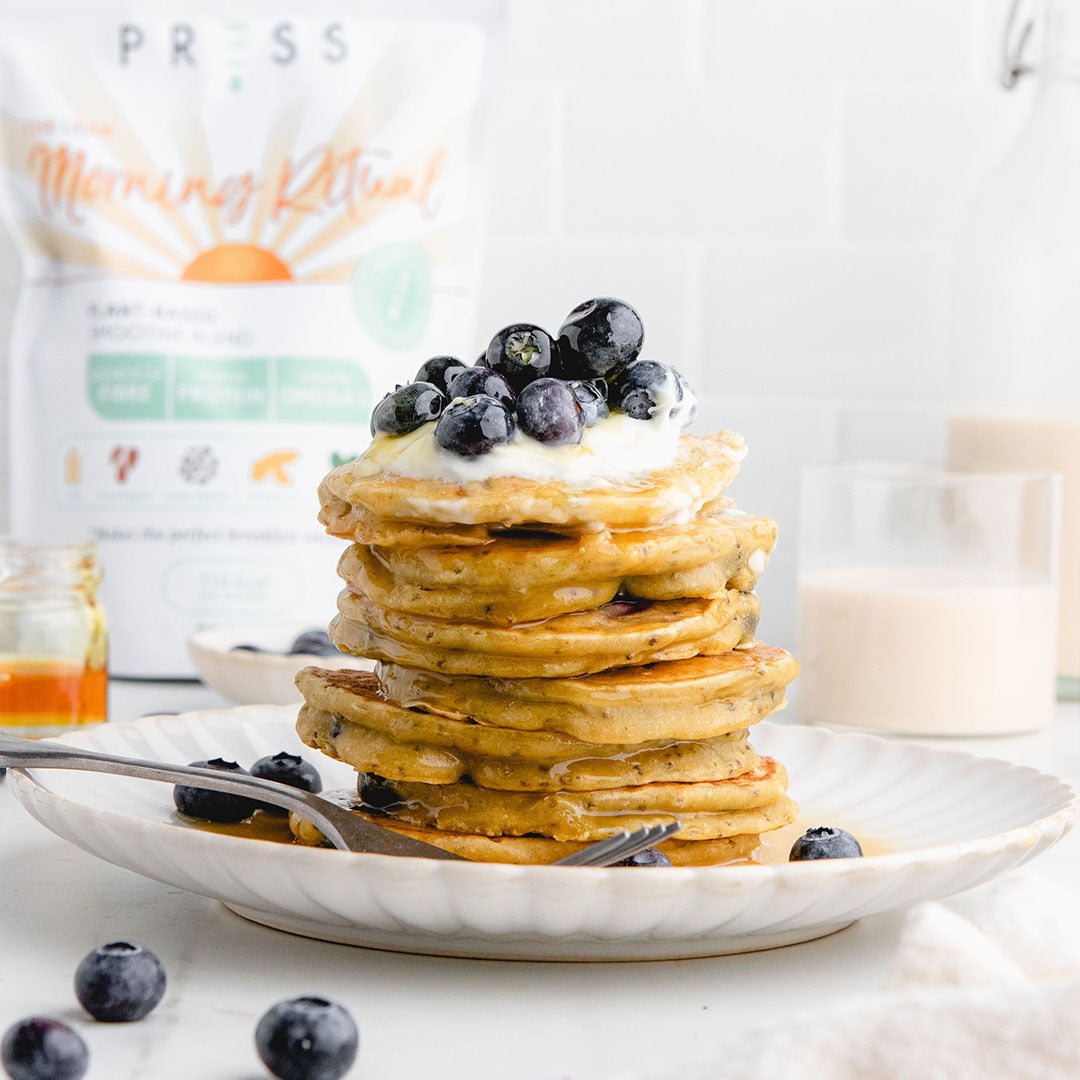 Plant-based Blueberry Pancakes have become my favourite weekend treat! They are simple, easy to make, fluffy and topped with juicy blueberries and maple syrup. 
It's that time of year again and although we all enjoy our fair share of these delicious treats more than one day a year, today we are shining a light on our favourite recipe 
Whether your pancake preference is thin, fluffy, sweet or savoury it can be difficult to find a nice alternative plant-based recipe. We challenged Barbara Husakova, an amazing food photographer and nutritionist, to create her favourite plant-based pancake recipe using our PRESS Oat Milk and Morning Ritual Organic Smoothie Blend. Get ready to make 2022 the most delicious plant-based Pancake Day ever and have a read of Barbara's take on blueberry pancakes.
If I had to choose my favourite pancakes it would probably be these blueberry pancakes using the delicious PRESS Oat Milk. I will probably start to make these pretty much every weekend. Even though they are vegan - made without eggs - they are still so light and fluffy. So if you are looking for healthy vegan pancakes  this recipe is right for you 
Another thing I like about these pancakes is that they are whole grain and healthy. Yes, healthy! I used spelt flour in this recipe which is packed full of nutrients but feel free to swap for wholewheat or just regular plain flour. For the gluten-free version, you can use buckwheat flour. I also have added a superfood plant-based protein blend which I love from PRESS Healthfoods. PRESS's Morning Ritual Organic Smoothie blend is high in protein to support the growth and maintenance of muscle mass. A healthy, happy plant-based start to the day. 
EQUIPMENT
Mixing Bowl

Balloon Whisk

Non-stick Skillet
INGREDIENTS
1

cup

/ 120 g spelt flour

(or buckwheat, wholewheat or plain flour)

1

scoop

/ 15 grams plant-based protein blend - PRESS Morning Ritual Organic Smoothie Blend 

2

teaspoon

baking powder

1

tablespoon

/ 15 g sweetener

(coconut sugar or maple syrup)

1

cup

/ 250 ml PRESS Oat Milk 

1

flax or chia egg

(1 tbsp ground flax seeds or chia seeds mixed in 3 tbsp water)

1/4

cup

/ 50 g fresh blueberries

Coconut oil to grease the pan
TOPPINGS 
Fresh Blueberries

Maple Syrup

Vegan Yoghurt
INSTRUCTIONS
 In a bowl mix the flour, protein powder and baking powder together. 

Pour in the milk, flax/chia egg and maple syrup. 

Gently mix until just combined. Do not over mix! 

Stir in the blueberries and let the batter rest for 5 minutes. 

Heat coconut oil in a large skillet over low/medium heat. 

Pour a ¼ cup of the batter into the pan letting it cook for 2 minutes until small bubbles start to form. 

Flip and cook for another 1 minute. 

Repeat with the remaining batter. 

Top with vegan yoghurt, fresh blueberries and drizzle with maple syrup. 
TIPS
Let the batter rest – I always rest my batter for at least 5 minutes before cooking. This allows the flour to absorb all the liquid and make them so fluffy. 
Be patient while cooking – Cook the pancakes on low/medium heat and flip once the pancakes have a little bubble forming on the top. This will ensure that you will perfectly flip the pancakes and won't pour your batter everywhere.
DO NOT over mix the batter – This is a really important step. Mix the batter just until everything is incorporated. If you over mix the batter the pancakes will be dense and not so delicious.