Hearty Pepper Recipes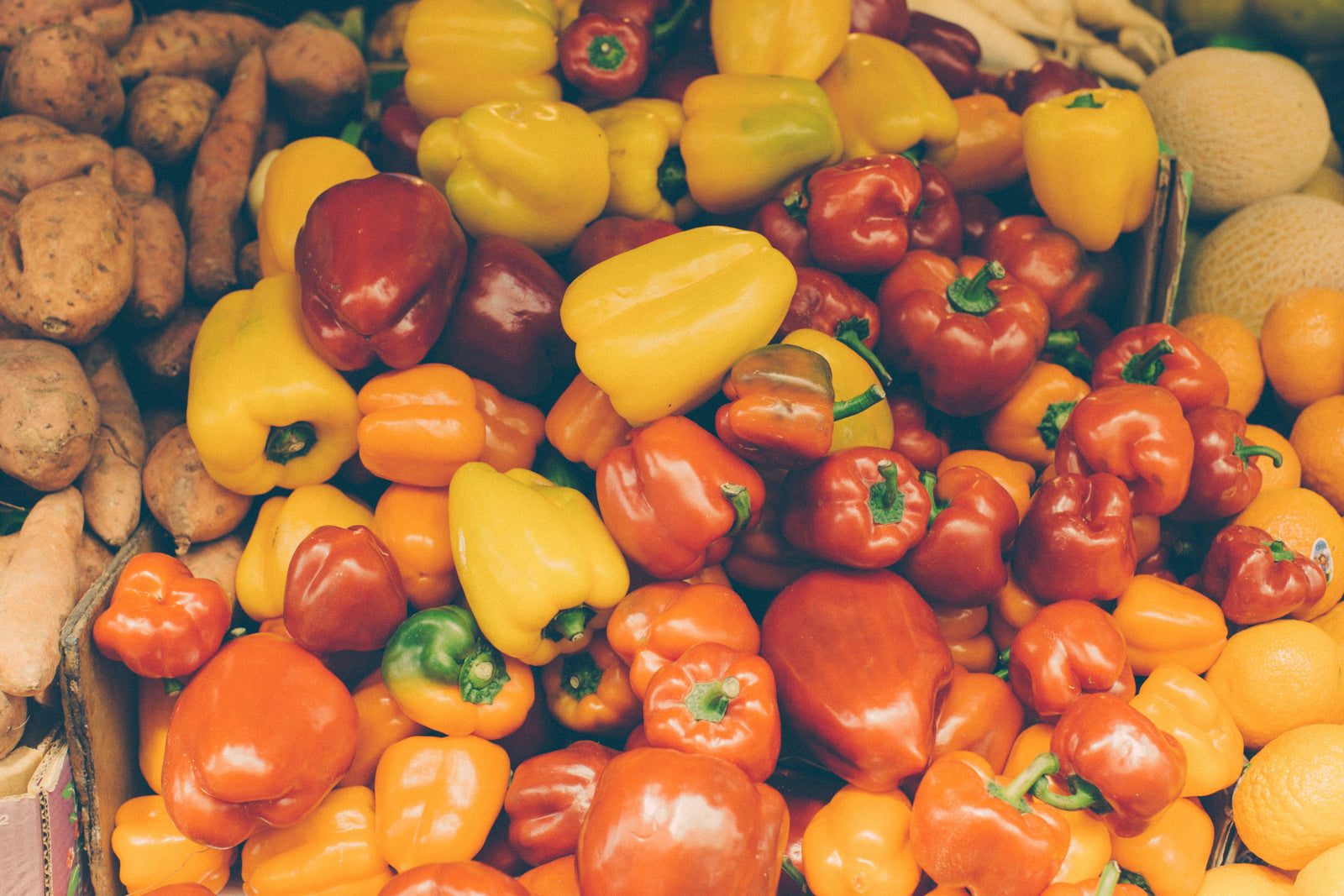 Peppers are a great source of Vitamin C, they help increase blood circulation in your skin (reducing wrinkles making you look more youthful) and have significant dietary fibre, aiding digestion.
Peppers are a great source of Vitamin C, they help increase blood circulation in your skin (reducing wrinkles making you look more youthful) and have significant dietary fibre, aiding digestion.
MEXICAN WILD RICE STUFFED PEPPERS (Makes 4)
Ingredients:
1 cup wild rice 
2 cups vegetable stock 
4 large red, yellow, or green bell peppers 
2 tsp paprika
1 tin of black beans (drained)
Method:
1  Add rice and vegetable stock to a saucepan and bring to a boil over high heat. Once boiling, reduce heat, cover, and simmer until all liquid is absorbed and rice is fluffy – about 20 minutes.
2  Preheat oven to 190 C and lightly grease a 9×13 baking dish or rimmed baking sheet.
3  Brush halved peppers with olive oil or coconut oil.
4  Add cooked rice to a large mixing bowl with the paprika, mixed beans and salt and pepper.
5  Generously stuff halved peppers with the rice mixture until all peppers are full, then cover the dish with foil.
6  Bake for 30 minutes covered. Then remove foil, increase heat to 204 C, and bake for another 15-20 minutes, or until peppers are soft and slightly golden brown. For softer peppers, bake 5-10 minutes more.
ROASTED RED PEPPER SPAGHETTI (Serves 2)
Ingredients:
2 roasted red peppers
60ml olive oil
100g mixed nuts
3 garlic cloves, finely chopped
200g spaghetti
4 tbsp parmesan
Method:
Blitz the roasted red pepper with the olive oil, nuts and garlic in a food processor, season well and set aside.
Bring a pan of salted water to the boil, add the pasta and cook for 1 min less than the pack instructions and drain, reserving a ladleful of cooking water. Tip the pasta back into the pan, along with the reserved cooking water and red pepper sauce, and return to the heat to warm through. Tip the pasta into a bowl and top with the parmesan and some chopped toasted nuts. Season and serve.
FAJITAS (serves 2)
Ingredients:
1 packet of This Isn't Chicken
1 Heaped Tbsp Paprika
Red onion (sliced finely)
Red pepper (finely sliced)
Method:
In a bowl, mix together paprika and olive oil, salt and pepper. Stir sliced chicken bites, onion, pepper into the marinade.


Heat a griddle pan until smoking hot and add the chicken and marinade to the pan.

Keep everything moving over a high heat for about 5 mins using tongs until you get a nice charred effect. If your griddle pan is small you may need to do this in two batches.

Serve with tortilla wraps and Holy Moly Guacamole.
ROAST PEPPER, COCONUT & WHITE BEAN STEW (Serves 3)
Ingredients:
2 peppers
2 onions
1 tin of coconut milk
1 tin of butter beans
2 tbsp curry powder
Method:
Preheat the oven to 180C. Chop the peppers into bite sized pieces. Place on a baking tray with a drizzle of oil, salt and pepper. Roast for 35 minutes.

Meanwhile, slice the onions finely. In a hot pan with olive oil, fry the onions with salt and pepper (add garlic if you have any) until golden.

Add the curry powder and fry for a further minute.

Add the butter beans, 5 tbsp water and coconut milk. When the peppers are cooked add them too.

Lower the heat and leave to simmer for 30 minutes (the longer the better to absorb all of the water)

Serve with brown rice, quinoa or noodles.
RED PEPPER HUMMUS (Serves 6)
Ingredients
2 whole red bell peppers
1 tin of chickpeas
1 large lemon (the juice)
60ml tahini
1 small garlic clove
1/2 teaspoon ground cumin (optional)
Salt and pepper to taste
Method:
Rinse and drain the chickpeas, then tip them into a food processor. Peel the garlic and crush in with the chickpeas, along with plenty of salt and pepper. Whizz briefly.

Remove any stray seeds from the peppers, then add them to the processor with the lemon juice, 2 tablespoons of olive oil and tahini. Blitz again until really smooth. Taste and add extra seasoning and cumin if you want more flavour.

Spoon into a bowl, drizzle with olive oil and serve with celery sticks, radishes or a stack of breadsticks for dipping.