q&a
My Boss Made Me Cleanse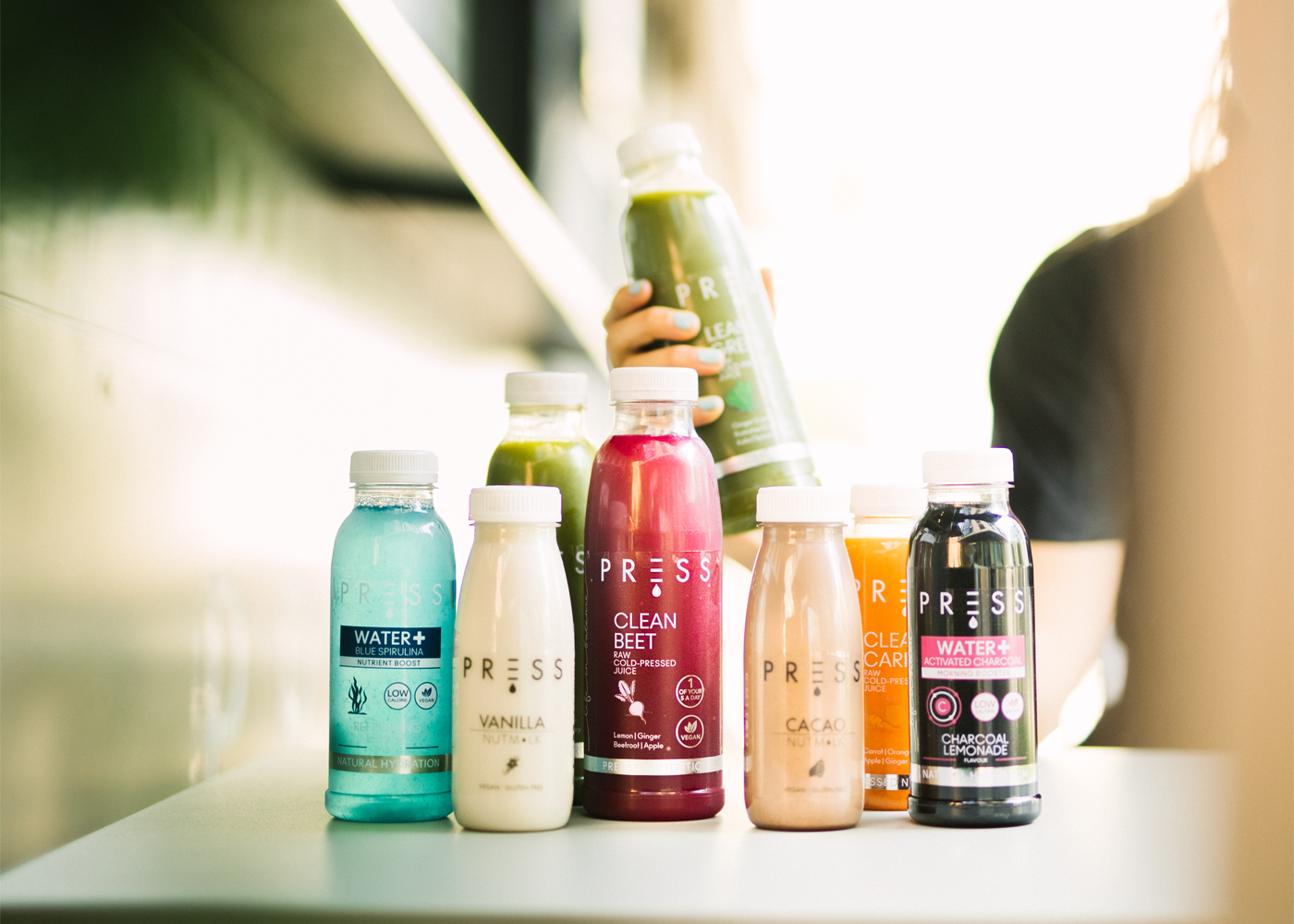 An intern tries the Weekend Reset Cleanse and gives the honest low-down on her experience!
Working at PRESS, I have now tried pretty much all the juices but, until this week, I had never actually embarked on a proper PRESS 'cleanse.' As someone who SERIOUSLY loves food I've always worried about how I'd fare on an (almost) completely liquid diet.
So, when my boss set me the challenge of trying the 'Weekend Reset' Cleanse, I was both nervous and excited! Finally, an opportunity to put my will-power and body to the test!
The Cleanse 
The cleanse I was going to try was the 2-day '
Weekend Reset
'. At 2 days long, it was a shorter cleanse compared to some of the
others
that PRESS offers. It also contains a mixture of products, not just juice, and given this was my first cleanse, I was relieved that I would be able to have soups and a snack as well.
In fact, one day of the cleanse consists of the following: Turmeric Shot, Lean Green Juice, Water + Blue Spirulina, Miso Barley Broth, Roast Tomato and Quinoa Soup, Cacao and Matcha Energy Bar, Kombucha, Chickpea and Barley Soup and Vanilla Nutmilk. Listed out like this it didn't seem as daunting.
PRE CLEANSE
I actually decided to do the cleanse on a Monday and Tuesday, instead of over the weekend. After a busy weekend and a few pizzas, a cleanse was certainly needed! The night before, however, I was filled with many questions about the impending two days…
Would I be able to complete the cleanse? Was I ACTUALLY going to feel different in just two days? And was I going to be starving the entire time?! 
With both anticipation and nerves high, it was time to find out…
Day 1:
I woke up incredibly worried- the prospect of no solid food apart from 2 energy bars over the next two days seemed pretty crazy to me. Fortunately, I am not much of a breakfast person, so the morning of the cleanse promised to be not too much of a struggle.
The Morning:
My day started with a Turmeric shot when I woke up. The orange/yellow colour and extremely earthy smell were concerning but I went for it anyway. Knocking it back like a shot of vodka, expecting the worst, I was pleasantly surprised. There's definitely an earthy flavour but the lemon taste really comes through and offsets it. It also feels super healthy and I secretly hope to myself that its offsetting all the pizza I had eaten over the weekend.
I was missing my coffee and feeling a bit sleepy but had high hopes that the nutrients in the cleanse would soon pick me up. Onto my next drink, the Lean Green, scheduled to be consumed between 9 and 10am. This 500ml bottle of green juice, the ingredients of which seemed worryingly limited to ONLY green vegetables ­+ a little lemon juice, was intimidating. While I do like to be healthy, I have never got into green juices and wasn't sure what to expect. However, similar to the turmeric shot, the lemon flavour really came through and made it not bad. What's more, the huge size also meant it took me a while to get through and by 11 I still didn't really feel hungry at all. SUCCESS!
I was filled up to the brim with liquid after sipping my Lean Green but it was soon onto the next drink of the day- the Water + Blue Spirulina Lemonade. I have to admit that there were no surprises with this one because I often drink it in the office. It was delicious (as usual) but felt a bit weird to be having it at 11am and not as an afternoon drink. Old habits die hard it seems…
Lunchtime:
In the cleanse guide, which you receive with the cleanse, it suggests having your first soup at 12. This Barley Miso Broth is definitely a broth and not a soup. I would say it is pretty much just flavoured liquid with some chilli flakes. Although I did really enjoy the taste, it left me wanting a more filling lunchtime meal afterwards. I started to feel a bit hungry after having this… Alas, my next soup wasn't scheduled until 2pm.
2pm came around, albeit slowly. Time for my next soup- the Roasted Tomato and Quinoa! I was extremely excited about this one because I absolutely love tomato soup and it also looked a bit more filling than the my previous one. I was quite hungry by now but probably no more than I usually am for lunch. As I had suspected, the soup was an absolute dream. The flavour was delicious, and it had a really nice and thick consistency. After finishing my soup, I was actually full which I wasn't really expecting if I'm honest. So far this was definitely my favourite part of the cleanse.
The Afternoon:
The next thing on my cleanse, the PRESS Energy Bar, wasn't scheduled until 4pm. Despite only having liquids all day, I managed to get on with my work as usual and didn't feel low on energy. By the time 4 came I was hungry though and ready for my bar! It was so nice to have something to actually chew and was a real afternoon pick me up.
Up next: the Kombucha. This was ok but definitely wasn't a highlight. However, the fizz of the drink helped tide me over until my soup for supper which was good.
Evening:
Dinner and time for my final soup! I am going to be honest here, at first sight the Chickpea and Barley Soup didn't look that appetising and I was starting to wish I could have something solid. But, to my surprise, this actually turned out to be my favourite of the three. It was very hearty and filling and also had a good flavour, which I was really not expecting. It felt like a proper meal and I was satisfied (or as much as you can be on a liquid diet.)
It goes without saying that the Vanilla Leche, my night time treat, was a winner. I always have bit of chocolate in the evening and the milk served as an alternative. While definitely not my usual Green and Blacks, it was really sweet and creamy and a delicious way to finish day.
Time for bed! I was certainly not as full as I usually am at bedtime but maybe this wasn't a bad thing?!
Day 2:
The Weekend Reset is only two days long, so this was also my final day! I slept like a log which, for those who know me, is a very rare occurrence. Could this be the result of the cleanse?! While I was definitely a bit hungrier than usual when I woke, I wasn't starving, which I had expected to be.
I followed the same schedule as the day before and was feeling pretty good. I walked to work (1 hour's walk) with lots of energy and ready to smash day 2. I heated the Miso broth for longer and found it much more satisfying than day one. I also enjoyed the Lean Green more because I knew what to expect. I had a slight dip in energy in the afternoon but after having the bar I felt much better. Slept amazingly again that night.
Overall Review:
 Ok so, I was really surprised that I had as much energy as I did because I'd really been expecting to feel quite tired. I even walked around 8km a day pretty easily. Interestingly, I was less hungry on day 2 than the day 1. Perhaps this was due to me stretching my stomach with pizza the day before the cleanse?
(Note to all- try not to go overboard before you cleanse because it just makes it harder!)
I slept absolutely amazingly while doing the cleanse as well, so I woke up feeling really refreshed. While I couldn't do it too often simply because I would miss solid food too much, I would 100% do one again because of how refreshed I felt afterwards. In the days after the cleanse I've also had really high energy. RESULT- I didn't fail the cleanse and actually kind of enjoyed the process?!