nutrition
Nutritionist Approved Lunches For Diet Success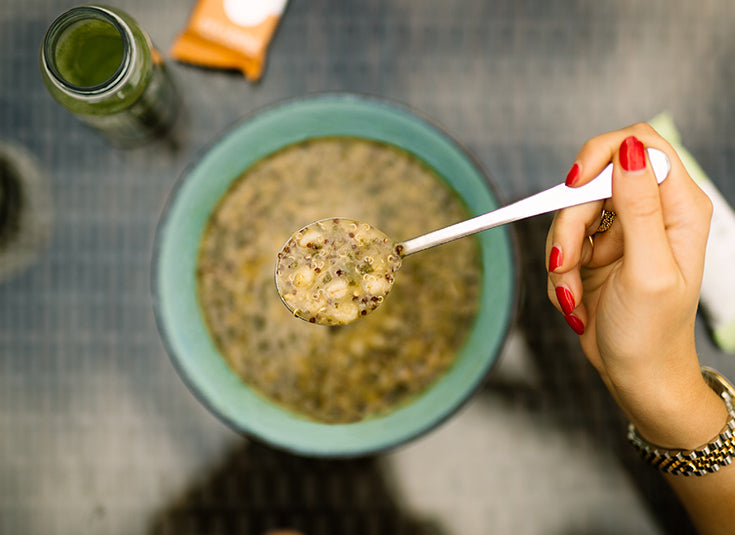 Who says grab and go lunches have to derail your diet?
Rushing a grab and go sandwich at your desk may seem like you're being more efficient however, in‌ ‌reality, nutrient-poor options can hinder focus, mood and even memory.

Food fuels our body and brain and certain nutrients are required to create long-lasting energy for a productive afternoon. Our in house nutritionist, Lily Soutter shares top choices for optimal brain power all afternoon long...
 
 
Pret A Manger
Top salad - Pret's Protein Box
Chargrilled British chicken breast, free-range eggs, sliced avocado, long-stem broccoli and baby leaf spinach. Finished with a punchy ancho chilli dressing.

Nutrition Benefits: this tasty box is full of lean protein and is low in saturated fat. The high protein content can aid with satiety, ultimately keeping hunger at bay. This salad box is also a perfect choice for those who find high carbohydrate lunches make them sleepy. 

321 kcal, 16.8g fat, 3.5g saturated fat, 5.6g carbohydrate, 2.5g sugar, 4.7g fibre, 35.5g protein, 1.8g salt

 
Top Sandwich - Avo, Olives and Toms
 
Sliced avocado with Kalamata olive tapenade, roasted tomatoes and a handful of peppery rocket. Finished with fresh basil leaves and a sprinkling of toasted pine nuts. We have changed the recipe of our stone-baked baguette. It now contains Sunflower seeds.
Nutrition Benefits: who would have thought you can pop into your local Pret and pick up a sandwich with a huge 1/3 of our daily fibre intake! Fibre helps to keep us full but also aids with balancing blood sugar and provides a steady, sustained release of energy into the blood-stream.
529 kcal, 26.9g fat, 4.8g saturated fat, 55.5g carbohydrate, 3.8g sugar, 9.8g fibre, 11.7g protein, 2.1g salt
Top Soup - Pea & Mint Soup
A classic English soup of blended peas, kale and leek finished with a sprinkle of fresh mint.
Nutrition Benefits: This low-calorie soup comes with just 183kcal yet is super satisfying. What's more one portion provides a huge one-third daily intake of fibre and over 10g of plant-based protein.
183 kcal, 7.3g fat, 0.7g saturated fat, 18.2g carbohydrate, 6.6g sugar, 9.7g fibre, 10.3g protein, 2.3g salt
Top sandwich - Kool Korean Kimchi Wrap
Sweet & sour tofu with Schezuan pepper & soy, crispy raw spinach, cucumber and spicy, tangy kimchi with sesame roasted field mushrooms and grated carrot.

Nutrition Benefits: This wrap is a perfect choice for those looking for a healthy grab and go vegan lunch. With just 362 calories, yet a huge 12g protein per portion it is a great option to balance blood sugar and keep hunger and bay. With a tofu and rainbow salad filling, you can ensure you'll be provided with healthy brain fuel for a successful afternoon.

What's more kimchi is a fermented food, which comes with probiotic bacteria to support a healthy gut. 
PRESS London
Top soup - Balance Soup
Chunky broth with chickpeas, barley, kale and flaxseeds 

Nutrition Benefits: super low in calories yet totally filling. This soup is packed with beans, grains and greens this soup is not only full of fibre, but it's also a good source of plant-based protein. Wholesome and hearty, this soup has the added bonus of being low in saturated fat.

142kcal, 4.2g fat, 0.25g saturated fat, 18.8g carbohydrate, 2.25g sugar, 4.5g fibre, 5.25g protein, 1.75g salt
    
Eat
 
Top salad - Hot Smoked Sesame Salmon
 
Slow-cooked Smoked Salmon fillet balanced perfectly with fresh, Pickled Red Cabbage and a nutty Sesame Dressing delivering a Sweet and Sour Flavour combination.
 
Nutrition Benefits: This balanced lunch box provides a rich source of essential omega 3 fats. These fats nourish the brain and are crucial for mood and concentration.
 
494kcal, 19g fat, 3.2g saturated fat, 53g carbohydrate, 11g sugar, 5.7g fibre, 24g protein, 2.8g salt
 
 
Top Sandwich - Chicken Salad Sandwich
Malted bread with chicken, chicken stock, Dijon mustard, mayonnaise, tomatoes and mixed leaf
Nutrition Benefits: a light yet high protein and low fat sandwich perfect for keeping hunger at bay and preventing that post-lunch slump.
348 kcal, 9.8g fat, 1.4g saturated fat, 39g carbohydrate, 3.2g sugar, 2.9g fibre, 23g protein, 2.1g salt
Top Soup - Spiced Lentil, Spinach & Sweet Potato
A light vegan soup with a spiced red lentil base, sweet potato & spinach.

Nutrition Benefits: a very low fat, yet warming and satisfying lunch. Lentils provide a steady and slow release of energy for the brain and body for a productive day.

Per regular pot
280kcal, 6.5g fat, 0.6g saturated fat, 43g carbohydrate, 9.7g sugar, 6.8g fibre, 9.5g protein, 2.6g salt
 
Itsu
Top salad - Lean Chicken Zero'Salad
Lean, poached British chicken, tenderstem broccoli & zero carb shirataki noodles, muki beans & a pot of our signature spicy (no peanuts) sesame satay dressing with soy & tahini with a hint of chilli and lemon.

Nutrition Benefits: if high carb lunches make you sleepy in the afternoon, then this dish could be a perfect choice for you. The salad comes with a special type of noodle called glucomannan, which is full of fibre and zero calories. What's more, this salad is a source of iron which aids with energy, and magnesium which helps to ward off tiredness and fatigue.  

282kcal, 11g fat, 1.9g saturated fat, 7g carbohydrate, 4.1g sugar, 8.5g fibre, 24.7g protein, 1.34g salt
Top Sandwich - Quinoa Burgers Tokyo Wrap
Biona organic quinoa burgers, vitamin B packed nori, avocado, shredded carrot, fresh salad greens, mint & gochujang chilli sauce in kibbled rye wrap.

Nutrition Benefits: full of plant-based protein and rainbow coloured, antioxidant-rich veg. The high fibre content may help to contribute to normal cholesterol levels, vitamin C plays a role in energy production whilst vitamin A supports immune function.

470kcal, 25.3g fat, 4.80g saturated fat, 51g carbohydrate, 10.5g sugar, 6.90g fibre, 9.40g protein, 1.18g salt
Top Soup - Chicken Miso Greens Soup
Miso marinated chicken, whole grain brown rice, seasonal veg & ginger'greens, miso soup

Nutrition Benefits: a balanced yet light and low-fat soup, which is low calorie too. Full of antioxidant-rich vegetables, quality protein and fibre rich whole grains - the perfect combo for a high energy day. Just be mindful of your daily salt content as this option is on the higher end.

264kcal, 6.3g fat, 1.5g saturated fat, 37.9g carbohydrate, 3.2g sugar, 2.5g fibre, 18.3g protein, 3.15g salt
By leading London Nutritionist,
Lily Soutter
BSc (Hons) Food & Human Nutrition, Dip NT