health
Detox - is it worth it?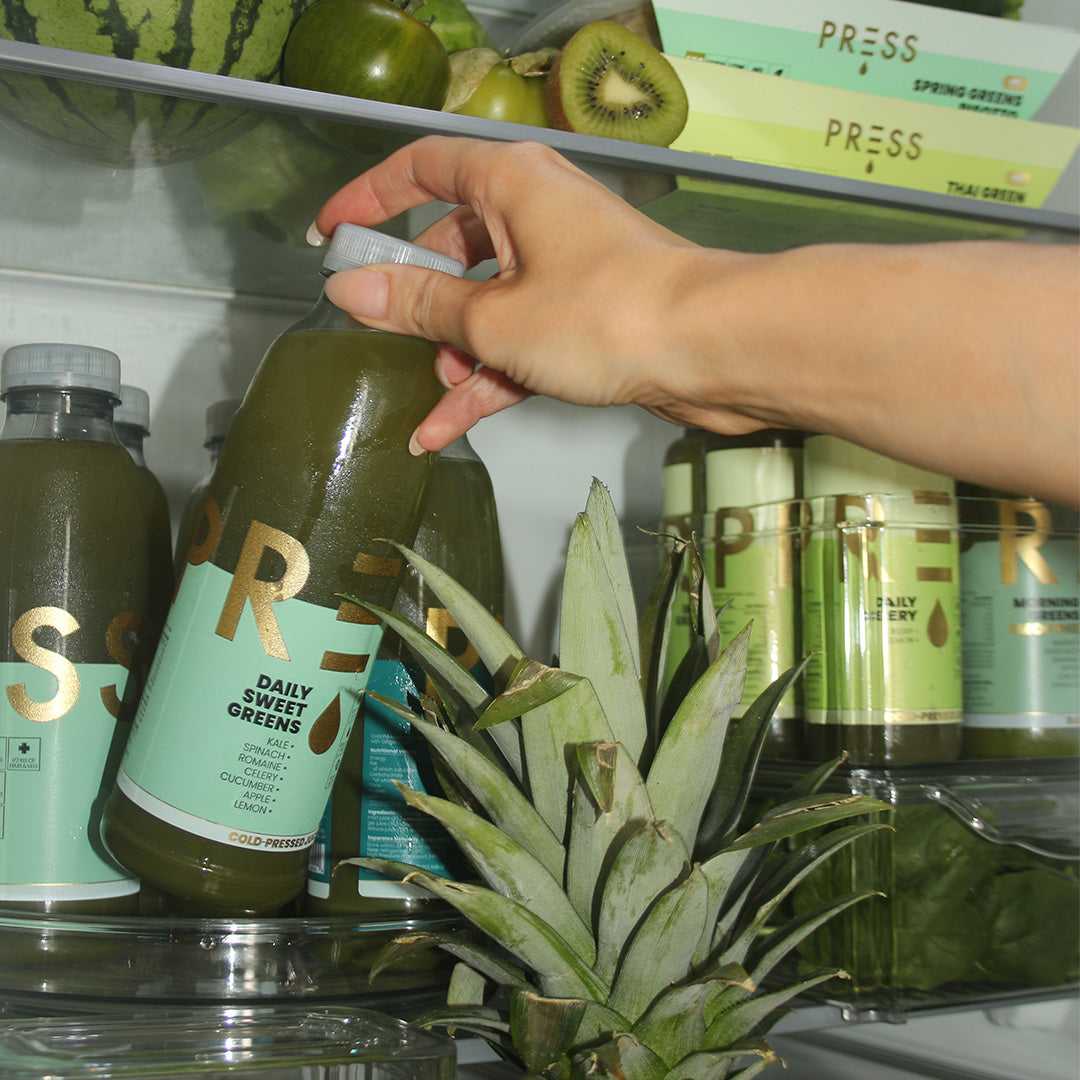 There's a lot of misinformation that goes around concerning detoxes. Here, we demystify the detox, consider what it once was, what it means today, and why it might be just what you need - to remove the bad to make the most of your summer. 
What is a detox anyway? 
In the medical realm, the word detox refers to the removal of poisons from the liver. When it comes to our health and wellness, this is much closer to what we usually think of as detoxing. A detox usually means we are trying to get rid of certain nasties in our diets, to improve our wellbeing. 
A detox is an invitation to eat better and become more body-aware. What it can help you do is make careful choices about what you put into your body, with the intention of breaking habits that stop you living life to the fullest. 
We've all probably heard of friends detoxing from social media or sugar, or used it ourselves. At PRESS, we like to think that as much as we're removing, we're also adding vital nutrients. Our summer detox plans are designed by nutritionists to ensure they're macronutrient balanced, and filled with essential vitamins, minerals and antioxidants; making sure you stay nourished and full of energy.
What are the benefits of a detox?
A detox is about taking back control. You might have noticed your snacking is out of control. Maybe you keep craving sweet things. 
A detox doesn't ban a food for life, and it doesn't have to be about being hungry. Instead, it creates a period in which you eat nutritious food and get back in touch with your intuition. It's a reset you do for you. 
Many people on detox meal plans report: 
Clearer skin

More energy

A better understanding of what their body needs. 
Some people come to a detox with weight loss in mind – it can lead to sustainable, healthy weight loss, but it doesn't need to be about that. It's about putting good things in your body so you glow on the outside. 
After making this step for yourself, you may well find this commitment towards more mindful living ripples into other areas of your life, from your work to your relationships. 
So - is a detox worth it? 
Detoxing is a personal choice, helping you move towards healthier and happier living. Many detoxer's find it time-saving, nourishing, and a good way to reconnect with themselves and reset learned behaviours. It can be brilliant to set in motion longer term health goals, or to prepare for a big event or holiday. 
How to detox safely
Planning a detox on your own can be stressful, even dangerous. How do you ensure you're getting the right amount of calories and not missing out on essential nutrients? Then there is the time consideration: time spent researching, shopping and preparing food might be better put to use doing the things you love. 
Our nutritionists and chefs have carefully devised a nutritious summer detox meal plan to take the burden from you. We have worked carefully to make our offerings delicious and nutritious, and ensure you don't get bored. Expect filling meals such as our Keralan Coconut Curry and Spring Greens Risotto, high protein soups with delicious flavours such as carrot, ginger and turmeric or slow-roasted tomato, with red quinoa, chili and basil, refreshing waters spiked with blue spirulina, and creamy banana milkshakes. 
Let us personalise your meals to suit your lifestyle and goals. You just need to wait for your delivery!