Courgette Summer Recipes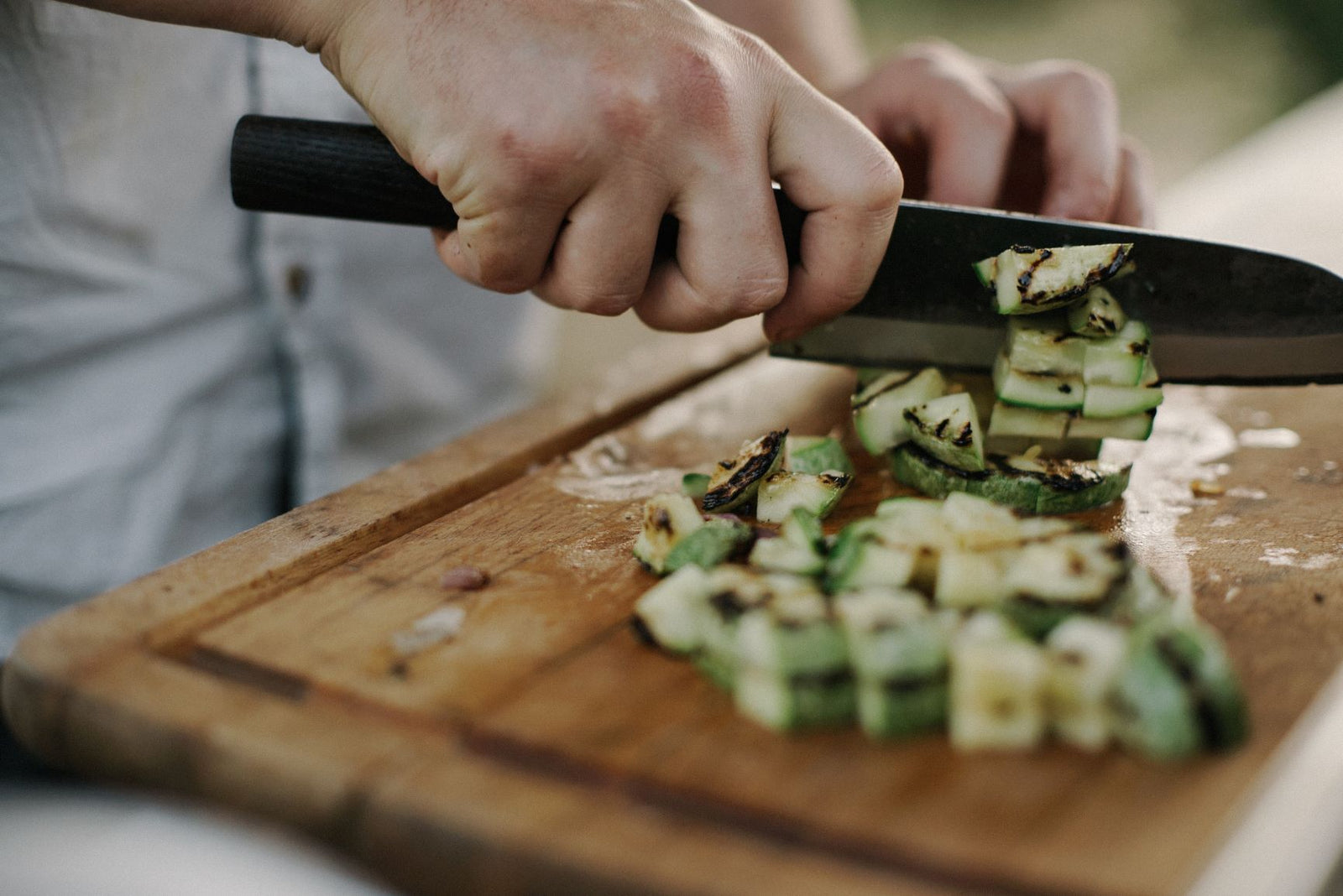 Courgette salads perfect for a hot summers day
Roast Courgette and Chickpea Summer Salad (Serves 2)
Ingredients:
Courgette 200g, cut in thick slices diagonally 
Juice of 1 lemon
2 cloves garlic (crushed)
3 tsp rose harissa pesto
1 tin of chickpeas (rinsed and drained)
A handful of parsley (optional)
Method:
Heat the oven to 190C/fan 170C/gas 5.

Toss the courgettes with 1 tbsp olive oil and lots of salt and pepper, then spread out on a non-stick baking tray. Roast for 10-15 minutes or until golden and tender.

Whisk the lemon juice, garlic, the remaining a tbsp of olive oil and the harissa pesto in a large bowl. Add the courgettes and any juices from the baking tray, the chickpeas, then toss everything together.
Courgetti with Balsamic-glazed Tomatoes and Pesto (Serves 1)
Ingredients bundle all items will be full pack amounts
Ingredients:
8 cherry tomatoes (halved)
1 clove of garlic (crushed)
1 large courgette
2 tbsp Vegan pesto
2 tbsp Balsamic Vinegar
Pine nuts (optional)
Method:
Toss the tomatoes with 1 tbsp olive oil, garlic and balsamic vinegar, salt and pepper. Tip into a frying pan and cook for 5 minutes until the whole tomatoes start to burst and they are coated in balsamic.

Pour a kettle of boiling water over the courgette spaghetti and blanch for 30 seconds. Drain really well and coat with the pesto and season well. Stir, coating the spaghetti then add the tomato's top with pine nuts.
Courgette Fritters
Ingredients:
2 medium courgettes (grated)
25g Violife Parmesan
170g ChicP velvet hummus
2 tbsp plain flour
1 clove of garlic (crushed)
Method:
In a bowl, combine the grated courgette, flour and parmesan. Then add the hummus so that they become a bit sticky. Shape into walnut-size balls, then flatten.

Heat a non-stick frying pan over a medium heat and add the olive oil. Fry the fritters for 2-3 mins on each side until golden brown.
Meatless Mince & Courgette Meatballs (makes 16-18)
Ingredients:
500g meatless mince
1 large courgette, grated
1 red onion, finely chopped
2 garlic cloves, diced finally
2 tbsp cumin
2 tbsp olive oil or melted coconut oil
Method:
Preheat the oven to 220ºC/200ºC Fan/Gas Mark 7. In a large bowl mix together all the ingredients for the meatballs. Once evenly mixed, shape into burgers, about 45g each, making about 18.

Pour enough olive oil into a large frying pan so you get a thin layer at the bottom and heat up well and sear the meatballs in batches on medium heat from all sides. Cook them for about 4 minutes until golden brown.

Carefully transfer the seared meatballs into an oven tray lined with greaseproof paper and place in the oven 5-7 minutes, or until just cooked through. Serve warm or at room temperature, with the sauce on the side.