nutrition
Can You Eat Yourself Happy?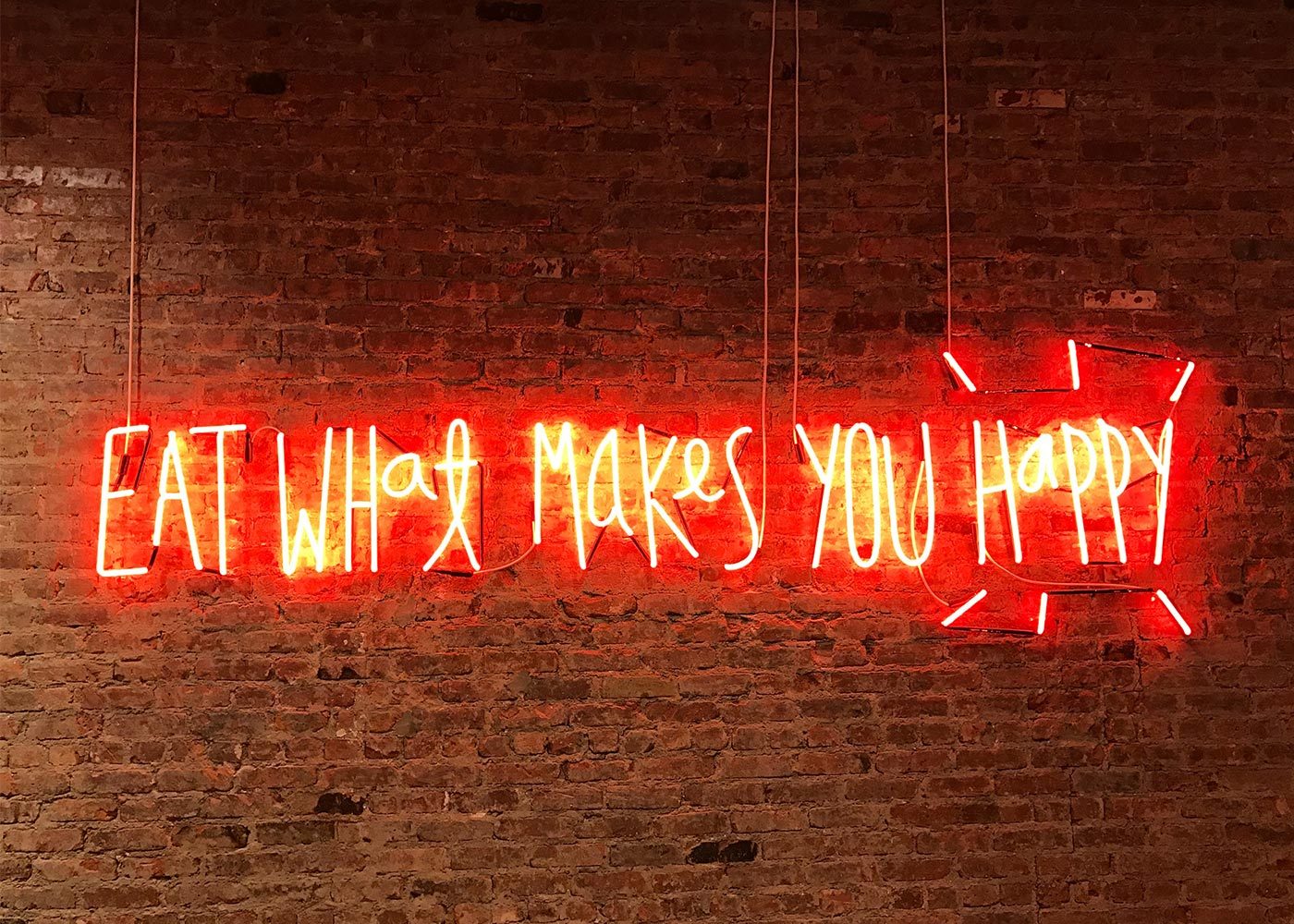 Can your diet really help put you in a good mood? Scientists are now referring to our gut as our second brain...
Ever wondered if food affects mood? Well, recent research indicates that diet can influence brain chemistry and how we feel...


HERE ARE THE TOP 9  WAYS TO ENSURE THAT YOUR DIET PUTS A ☺ ON YOUR FACE: 


1. BALANCE BLOOD SUGAR

White refined carbohydrates and sugary foods are absorbed quickly into the bloodstream. This may cause an initial 'high' or surge of energy that soon wears off. A blood sugar 'high' can result in a blood sugar 'crash' leaving us feeling tired and low.
To balance blood sugar, include protein, fibre and healthy fats into each meal or snack. All three components help to slow the release of sugar into the bloodstream.
PROTEIN


CHOOSE: MEAT, FISH, EGGS, YOGHURT, TOFU, TEMPEH, BEANS, LENTILS, CHICKPEAS, NUTS & SEEDS.



FIBRE


CHOOSE: WHOLEGRAIN BREAD, WHOLEGRAIN PASTA, BROWN RICE, OATS, WHITE OR SWEET POTATO WITH THE SKIN, QUINOA, BUCKWHEAT, VEGETABLES, FRUIT.



HEALTHY FATS


CHOOSE: OILY FISH, NUTS, SEEDS, AVOCADO & EXTRA VIRGIN OILS.



2. DON'T SKIP MEALS

Ensure that you eat at least three meals a day. Skipping meals can lead to low blood sugar, which can result in low mood, anxiety, irritability and fatigue.


3. OILY FISH!

Did you know that 60% of your brain is made up of fat? Most of these fats are similar to those found in oily fish called omega 3's.
A few studies suggest that supplementation of omega 3 oils may reduce symptoms in patients with depression and on antidepressant medication.
OILY FISH


CHOOSE TWO PORTIONS PER WEEK: SALMON, MACKEREL, HERRING, SARDINES & ANCHOVIES.



VEGETARIAN SOURCES


GROUND FLAXSEEDS, FLAXSEED OIL, CHIA SEEDS, CHIA SEED OIL AND WALNUTS.



4. CONSUME TRYPTOPHAN RICH FOODS

Tryptophan is part of a protein molecule and is the precursor to our happy hormone serotonin. Consumption of foods rich in tryptophan such as meat, fish, eggs, milk, cheese, beans and lentils can play an important role in influencing mood.
By combining 30g of carbohydrates to the tryptophan-rich foods, you can boost absorption and utilisation drastically.
CHOOSE: A SLICE OF WHOLEGRAIN BREAD TOPPED WITH TRYPTOPHAN-RICH TURKEY, OR A POT OF YOGHURT WITH MIXED FRUIT.

5. DON'T FEAR CARBS

Carbohydrates play a key role in transporting tryptophan to the brain, which is then converted to our happy hormone serotonin. Our brain also runs on glucose, which comes from the carbohydrates within our diet.
This means that a low mood can be a common side effect of very low carbohydrate diets.
CHOOSE: WHOLEGRAIN BREAD, WHOLEGRAIN PASTA, BROWN RICE, OATS, WHITE OR SWEET POTATO WITH THE SKIN, QUINOA, BUCKWHEAT, BEANS, LENTILS, CHICKPEAS, VEGETABLES & FRUIT.

6. VITAMIN B6

This water-soluble vitamin plays an essential role in the production of key neurotransmitters, which are involved with mood, including serotonin and dopamine.
Low levels of vitamin B6 have been associated with symptoms of depression as well as PMS and mood swings.
CHOOSE: BEANS, NUTS, LEGUMES, EGGS, MEATS, FISH, WHOLE GRAINS, BANANAS, FORTIFIED BREADS & CEREALS.



7. A HEALTHY GUT, A HAPPY MIND

90% of our serotonin is located within the gut, and only 10% is located within the brain. Scientists are now referring to our gut as our second brain, and the latest research has shown that our gut bacteria may influence how much serotonin we produce.
While the research is still relatively new and not yet conclusive, many of us could do with a little more good gut bacteria due to widespread antibiotic use.
FERMENTED FOODS (PROBIOTICS)


CHOOSE: NATURAL LIVE YOGHURT, SAUERKRAUT, KEFIR OR KIMCHI.



PREBIOTICS


CHOOSE: JERUSALEM ARTICHOKES, GARLIC, ONIONS, LEEKS, DANDELION GREENS, ASPARAGUS, UNRIPE BANANAS, CHICORY ROOT, APPLES, OATS OR FLAXSEEDS.



8. DON'T OVERDO THE ALCOHOL

Whilst alcohol in moderation is absolutely fine, we have to remember that alcohol has a depressant effect on the brain so can result in rapid worsening of our mood.
Thiamine is also a common B vitamin deficiency seen in heavy drinkers, and this deficit can lead to low mood, irritability and anger.
CHOOSE: NO MORE THAN 14 UNITS PER WEEK FOR WOMEN
NO MORE THAN 21 UNITS PER WEEK FOR MEN

1 UNIT:
1 SMALL GLASS OF WINE
½ PINT OF BEER
1 SINGLE MEASURE SPRIRITS
1 SMALL GLASS OF SHERRY OR PORT



9. DON'T OVERDO CAFFEINE

Caffeine is a stimulant found in coffee, tea, chocolate and energy drinks. In some people, caffeine can affect mood and may result in anxiety. 
If you notice that caffeine makes you feel jittery or anxious it may be time to cutback. Although caffeine is fine to have in moderation, it's important to note that people's sensitivity to caffeine can vary greatly.
CHOOSE: CALMING HERBAL TEAS SUCH AS CHAMOMILE, LEMON BALM OR LAVENDER.

Photo Credit: Jon Tyson
DISCLAIMER: We endeavour to always credit the correct original source of every image we use. If you think a credit may be incorrect, please contact us at info@press-london.com