recipes
6 Fast Ways To Make Vegetables Taste Amazing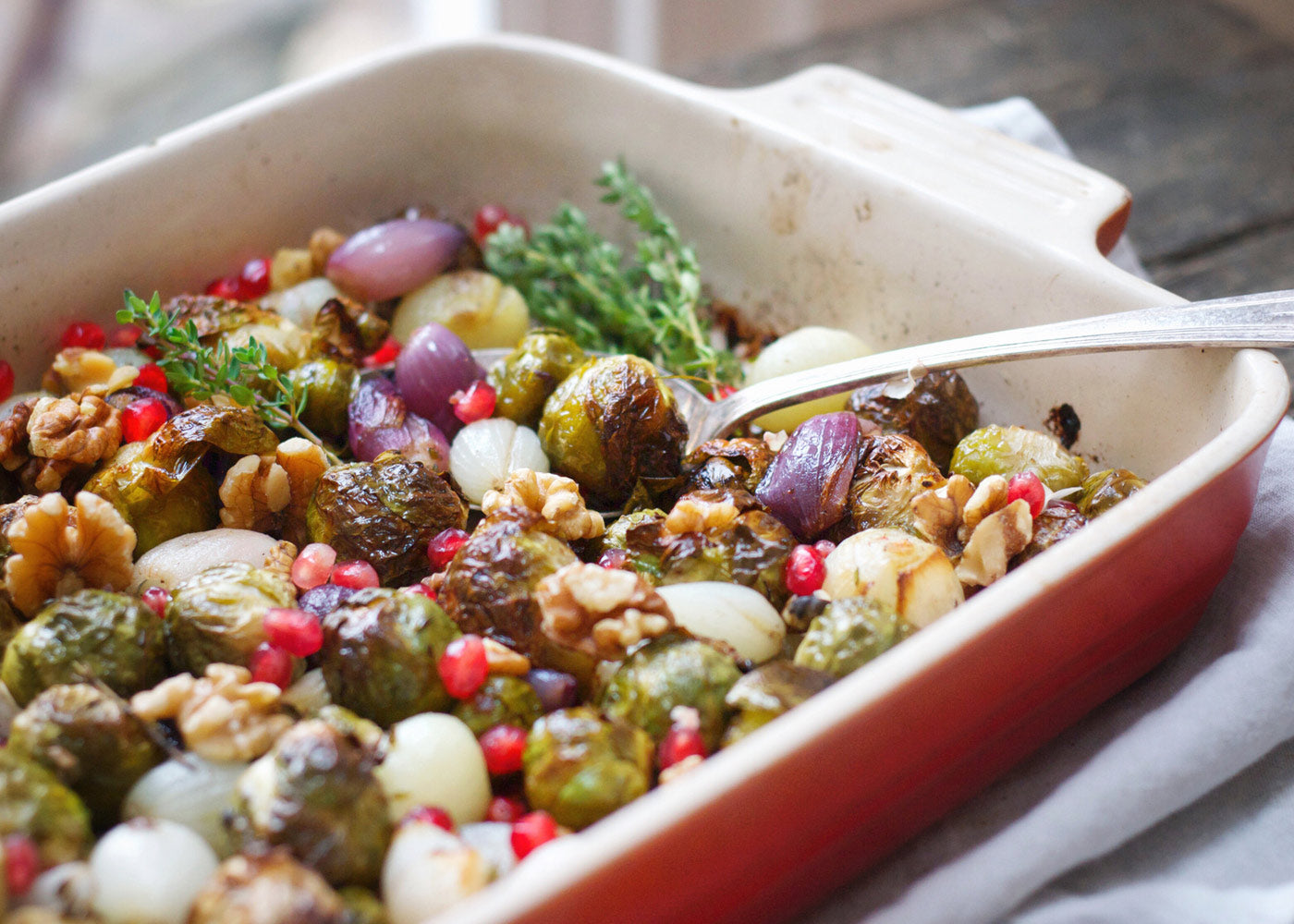 Not a particularly great fan of veg? Bored of chewy kale? Read more for some deliciously fast recipes.
If you're struggling to get in your 5 a day, then you're not alone. In fact, a 2016 Health Survey for England concluded that only 26% of adults were reaching this target!
If taste and flavour is a barrier for you, then we have the perfect solution. Macrobiotic Nutritionist & Chef, Nicky Clinch has shared 6 utterly delicious vegetable recipes which are a must try… 


MISO MAPLE STICKY AUBERGINES
Ingredients (Serves 3-4 people)
2 Medium sized Aubergines
2 Tbsp Brown Rice Miso Paste
2 Tbsp Brown Rice Syrup/Maple Syrup
1 Tbsp Sesame Oil
1 Tsp Brown Rice Vinegar/Cider Vinegar
1/2 Tsp Tamari
1 Spring Onion, finely sliced
Toasted White Sesame Seeds for garnish
2 pinches of Fine Sea Salt
Method:
1. Preheat the oven to 180 degrees.
2. Mix your marinade ingredients in a small bowl or jar. Set aside.
3. Cut the aubergines in half lengthways and put on a baking tree/oven dish. Cut the flesh side of the aubergine into a criss-cross pattern (up to the edges) so that you can eat it with a spoon when it is done.
4. Sprinkle 2 pinches of salt over the aubergines to tenderise them and draw out the liquid.
5. Using a tablespoon, spread the marinade over the aubergine halves, making sure that you get the marinade into the gaps so it goes inside, as well as on top.
6. Place in the oven for 25 minutes, checking them after 15 mins.
7. Once cooked, remove from the oven, scatter over some toasted white sesame seeds and spring onion, and eat immediately.
WHOLE ROASTED LEMON & DILL ARTICHOKES
Ingredients (Serve 3-4)
6 Artichokes, cut in half
3 Lemons, cut in half
Olive oil
2 Pinches Sea Salt Crystals
Black Pepper
Few sprigs of fresh Dill
Method:
1. Preheat oven to 175 degrees C.
2. Place artichoke halves in a roasting dish, heart side up.
3. Drizzle with olive oil, sprinkle salt crystals and then squeeze the juice of the 3 lemons over the artichokes and place directly into the pan around the roasting dish.
4. Add on a few rounds of the pepper grinder.
5. Bake for 25-30mins but check after 20 mins.
6. The artichokes should be really crispy and golden in colour but not burnt. Scatter the fresh dill over the artichokes and enjoy straight from the pan!
JEWELLED BRUSSELS & SHALLOTS IN MANDARIN, THYME & GARLIC INFUSED OIL
Ingredients (Serves 4)
540g Brussel Sprouts
500g Shallots (red & white)
150g Walnut Halves
100g Pomegranate Seeds
Fresh Thyme for garnish
For the Mandarin Garlic & Thyme Infused Oil
80ml Olive Oil
1 small Mandarin Skin
1 Tbsp Red Peppercorns
2 Juniper Berries
4 large Garlic Cloves
One small bunch thyme tied together with string
1 Tbsp Five Spice
Sea Salt
Method:
1. Preheat oven to 165 degrees C.
2. First prep your brussels and shallots – peel the outer skins and take off both ends. You'll be roasting them both whole in this dish.
3. Get all the ingredients for your infused oil into a large roasting dish and mix together well. Put in the oven and roast for 10 mins or until the oil is nice and bubbly. You will get the most wonderful smells of mandarin, thyme and garlic coming from your ovens, and it is heavenly.
4. Once done, take out of the oven and pour in your brussels and shallots. Sprinkle on your five spice and a good couple pinches of fine sea salt and mix everything really well. You want to make sure that every single vegetable is coated and infused with oil and seasoned.
5. Roast in the oven for 30 mins, take out and mix well, then place back in the oven for another 10 mins.
6. Toast your walnuts in a frying pan on a medium heat (no oil). Make sure you sir them regularly so that nothing catches. You should know they are toasted once their aroma is released. Take them off the heat and out of the pan immediately once they are done so that they do not continue toasting and burn.
7. Take your veggies out of the oven once done and add walnuts and pomegranate seeds to the dish plus a drizzle of tamari.
8. Mix everything well, discard the old thyme and add in fresh sprigs of new thyme for freshness, colour and decoration. 
ROASTED RED ONIONS WITH BROWN RICE MISO PASTE
Ingredients (Serves 4)
6 Red Onions
1 Tbsp Brown Miso Paste
Sea Salt
Olive Oil
Water
Method:
1. Preheat oven to 180 degrees C.
2. Finely slice roots off both ends so that you have flat surfaces on both sides.
3. Peel and halve the onions horizontally down the middle.
4. Place each half in a roasting dish and brush on miso paste over each half.
5. Drizzle olive oil over the onions and sprinkle with a couple of pinches of salt.
6. Pour in a small amount of water (so it just covers the surface of the roasting tray) and roast for 35-40 mins, or until they are nice and soft. 
7. Remove from the oven when done.
8. To make a quick sauce: dissolve 1 tsp of miso paste in 1/4 cup boiling water and pour over the onion halves when serving. 
ROASTED WHOLE OYSTER MUSHROOMS IN WHITE MISO & RED PEPPERCORN CREAM
Ingredients (Serves 4)
6 Whole Oyster Mushrooms
Sea Salt
Black Pepper
Olive Oil
1/2 Cup of Oat Cream
1 Tbsp White Miso
Crushed Red Peppercorns
Few leaves of Parsley
Method:
1. Preheat oven to 180 degrees C.
2. Place each mushroom whole in a roasting tray and drizzle olive oil and sprinkle salt and pepper.
3. Bake for 25-30 mins.
4. Add white miso, oat cream and a pinch of sea salt to a jar, shake well.
5. Drizzle generously over mushrooms.
6. Sprinkle crushed red peppercorns and parsley on serving. 
FIERY CAJUN SWEET POTATO & CORIANDER SEED
Ingredients  (Serves 4)
2 Large Sweet Potato
1 Tsp Cajun Spice
1/4 Tsp Cayenne Pepper (optional)
1 Tbsp Coriander Seeds
1 Tsp Fine Sea Salt
2-3 Tbsp Olive Oil
Fresh Parsley for garnish
Method:
1. Preheat oven to 180 degrees C.
2. Peel and slice your sweet potatoes into half moons approx 1- 2 cm thick. Obviously, this doesn't need to be exact but just try and make sure all are relatively even so they bake evenly.
3. Spread the sweet potato evenly in a roasting dish, try and make sure they are spread out not overlapping each other.
4. Drizzle olive oil, sprinkle salt and spices, and add coriander seeds so that each piece is evenly covered. Now with your hands or with two spoons, mix everything in well and reposition the pieces back in place.
5. Put in the oven to bake for 30 mins. Take out and turn each piece over. Place back in the oven and bake for another 10-15 mins or until they turn a lovely golden caramelised colour. Do not let them go black.
6. Take out and sprinkle fresh parsley as garnish. Serve and eat hot.
By Nicky Clinch, Macrobiotic Nutritionist, Life Counsellor, Chef and Teacher.
Join her membership program Homecoming. Homecoming is an 8 Week Transformational Program guiding you step by step Back Home to your most empowered, authentic and free self.