5 Ingredient Aubergine Dishes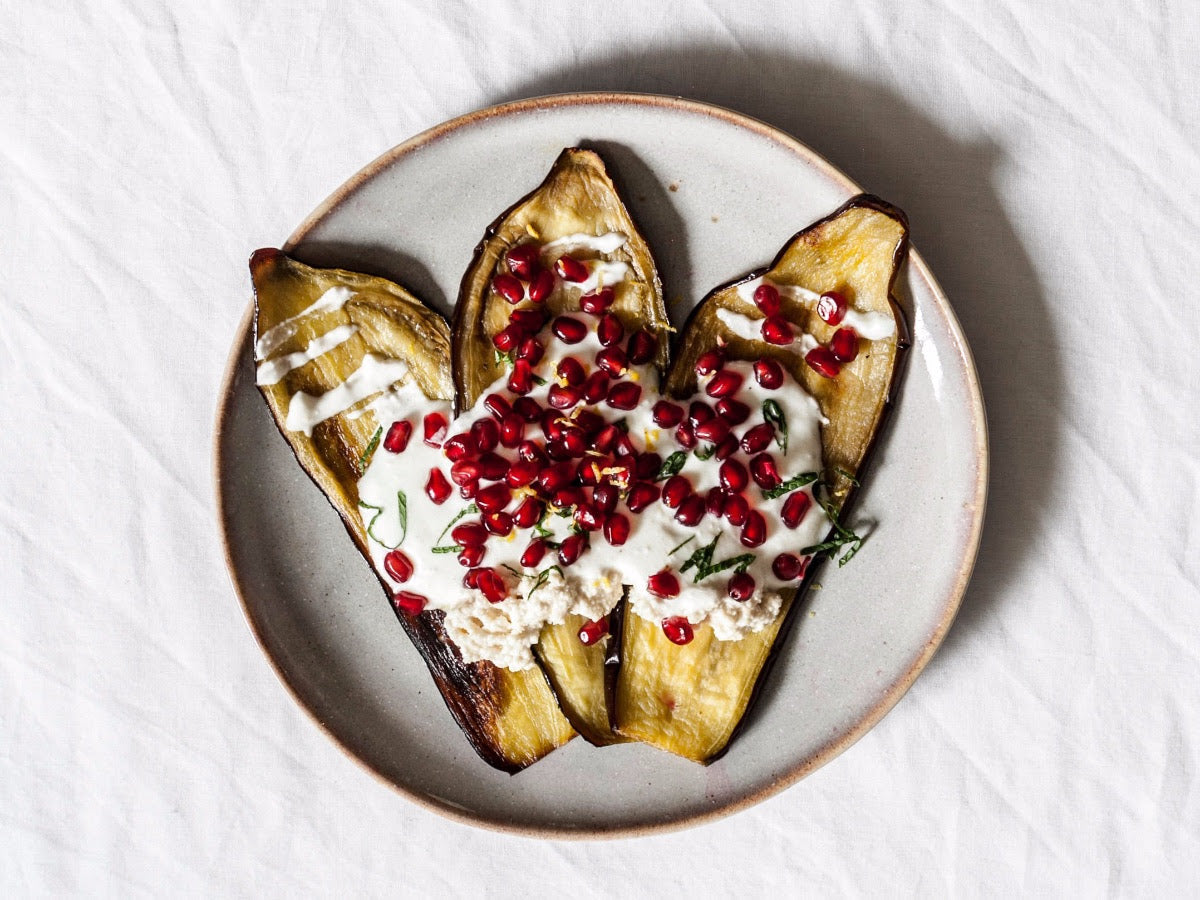 One of our favourite ingredients, the incredible, versatile and humble Aubergine or 'Eggplant' if you're from across the pond has cemented itself in today's digital world as a sex symbol. However not only is the aubergine a delicious and easy ingredient to get your hands around, it's also great for you! 
Aubergines are an excellent source of dietary fibre. They are also a good source of vitamins B1, B6 and potassium. In addition, it is high in the minerals copper, magnesium and manganese. 
We've pulled together 4 simple recipes that you can buy as bundles online, so wether its a weeknight creamy pasta or delicious baba ganoush there's something for every aubergine lover. 
Curried Satay Aubergines (serves 2)
Ingredients:
3 aubergines
1 tin of coconut milk
Thumb size piece of ginger
2 tablespoons of Curry Powder
3 heaped tablespoons of Crunchy Peanut Butter
Method:
Peel the ginger and slice it very finely.
In a bowl, mix the ginger, peanut butter, spices and a splash of water to make a paste.
Trim and cut the aubergines into 1cm thick circles and rub them with the paste.
In a big pan, heat a generous amount of your oil of choice. Fry the aubergines for 5 minutes, turning halfway. Add the coconut milk, season with salt and pepper and bring to a boil.
Reduce the heat and cover with the pan with a lid, leave to simmer for about 45 minutes so that the sauce has thickened. Add a splash of water every so often.
Season well and serve. 
Aubergine Chickpea Curry (serves 2)
Ingredients:
1 aubergine
1 tin of chickpeas
1 tin of Coconut Milk
1 brown onion
1 tablespoons of All Spice
Method
Peel and finely chop the onion. Chop the aubergine into small pieces.
Put a large saucepan on a high heat, add the oil and leave it to heat up for a minute or so. Add the onion and fry until golden.
Add the aubergine and spices, cook for 5 minutes. Add 5 tablespoons of water and cook for another 5 minutes until the aubergines are soft.
Drain the chickpeas and rinse them thoroughly. Add them to the pan, along with the coconut milk, salt and pepper. Bring to a boil, and then reduce the heat and simmer for 15 minutes stirring regularly.
Delicious served with brown rice and garnish with chopped coriander. 
Creamy Aubergine Pasta (serves 3)
Ingredients:
1 aubergine
1 packet of PRESS' Refuel Creamy Roast Tomato Soup or Tinned Tomatoes
200g mushrooms
380g Spelt Fusilli
250ml oat milk
Epic Mature Cheddar (optional)
Method:
Slice the aubergine into small bite sized pieces and finely chop the mushrooms.
Put a large saucepan on a high heat and fry the aubergines and mushrooms for about 4 minutes in olive oil.
Reduce the heat a little and pour in the oat milk and cook for a further 5 minutes.
Add the tomato soup, salt and pepper and the pasta. Mix well and leave to simmer so that the liquid starts to evaporate. Every so often, mix through the pasta so that it doesn't get stuck together.
After about 10 minutes when the pasta is cooked, serve with some grated Epic Mature Cheddar (optional).
Baba Ganoush (serves 5)
Ingredients:
1 and a half aubergines
½ tablespoon of tahini
1 lemon
½ teaspoon of cumin
1 clove of garlic
Method:
Preheat the oven to 180C.
Cut the aubergines in half lengthways
Score the flesh in a crisscross pattern, making sure you don't cut through the skins.
Drizzle with 1 tablespoon of olive oil and bake in the oven for 45 minutes.
Remove from the oven and leave to cool.
Peel and roughly chop the garlic.
Place in a food processor with the tahini, cumin, a tablespoon of olive oil and the aubergine (get rid of the skin)
Cut the lemon in half and squeeze in the juice, getting rid of any pips. Add a bit of salt and pepper and blitz it into a nice thick dip.
Transfer to a bowl and serve with crudités, warm bread or crackers.