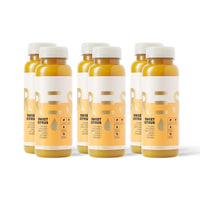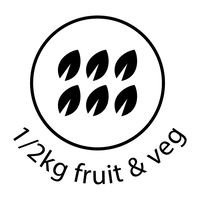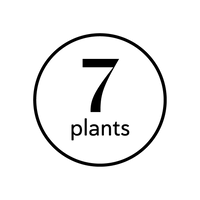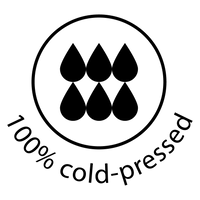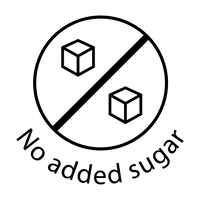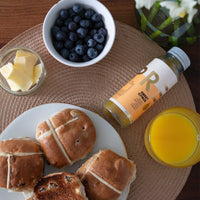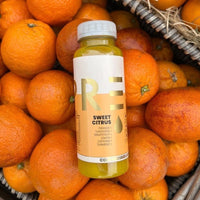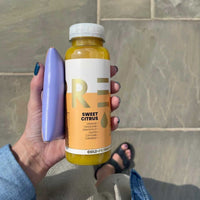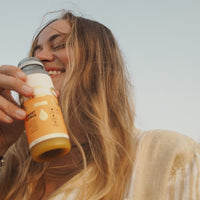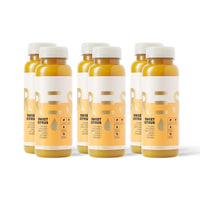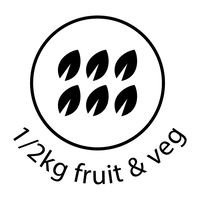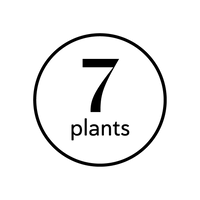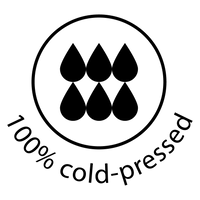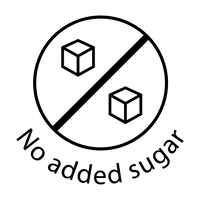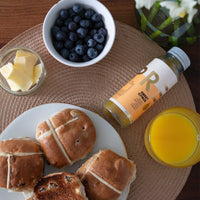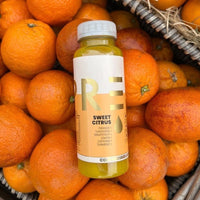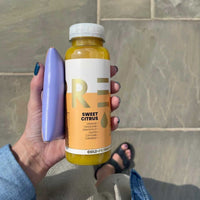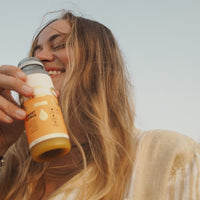 6 x Sweet Citrus 250ml
Elevating every day Orange Juice with a powerhouse of nutrient-dense additions.
Sweet and citrusy, this juice gets its kick from the addition of turmeric and cayenne pepper.
Boosted with turmeric, it's powerfully anti-inflammatory and packed with antioxidants.
Perfect if you're looking for extra immunity support (we love it daily in the colder months)


The Power of Turmeric
We add a boost of black pepper to help your body with the absorption of curcurmin to maximise benefits.
100% Plastic is Offset
We are proud to partner with our friends at CleanHub to help undo the damage to our Oceans ecosystems. We use 100% recycled and recyclable plastic, lowering our carbon footprint by 55%.
Tasting Notes
Sweet and citrusy with added depth from fresh turmeric root and spicy cayenne pepper.
Cold-Pressed
Never blended or heated, cold-pressing delivers maximum nutritional value with zero compromise to taste.
Ingredients.
PRESS endeavour to source the highest quality natural ingredients to create delicious, nutrient-rich cold pressed juices.

Orange
Loaded with vitamin C, oranges support your immune system and provide a tangy burst of flavour to your diet.

Lemon
Beyond its vitamin C content, lemons can aid digestion and add a refreshing taste to your meals and beverages.

Tangerine
Tangerines provide vitamin C, supporting immune function, and offer a sweet and tangy flavour.

Grapefruit
Loaded with vitamin C, grapefruit can boost your immune system and assist in weight management by promoting a feeling of fullness.

Turmeric
Curcumin, found in turmeric, has anti-inflammatory properties and may promote overall well-being.

Cayenne
The capsaicin in cayenne peppers can boost your metabolism, aid in weight management, and provide relief from pain and inflammation.
Nutritional Information

Ingredients

Allergens

This product contains no known allergens.

Delivery

Our delicious cold-pressed juices and cleanses are delivered directly to your home or office Monday - Sunday in specialised chilled packaging.

Standard Shipping is FREE over £45, otherwise £5.95.

Morning Delivery (pre 1pm guaranteed) - £7.95.

Storage Info

All your items will arrive in a chilled box, please refrigerate all products on arrival. All drinks will have a minimum of 7 days of shelf life when they reach you. Our soups will have a minimum of 5 days.

Once opened, keep refrigerated and consume within 2 days. Always refer to the expiration date of each product.

More Questions? Our friendly customer service team is always here to help