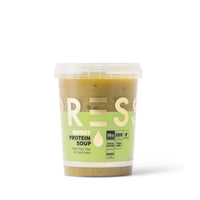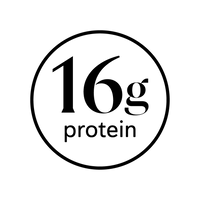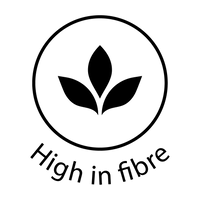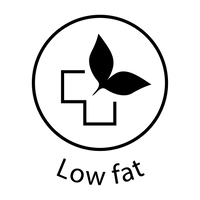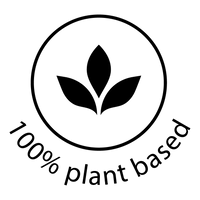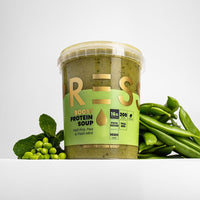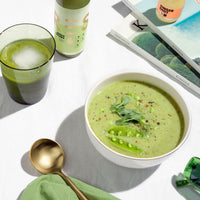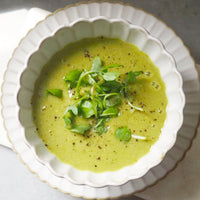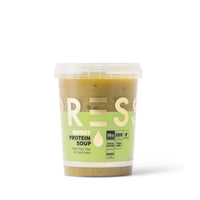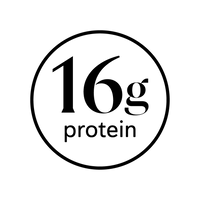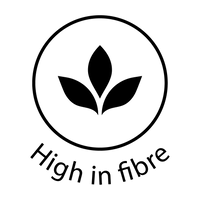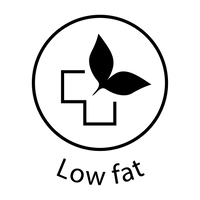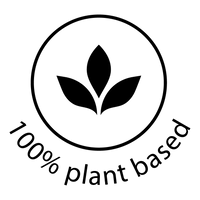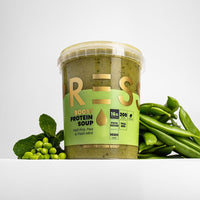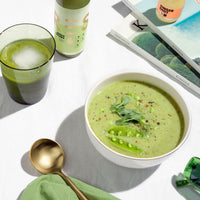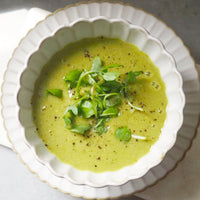 Boost: Petit Pois, Pea & Fresh Mint Protein Soup
A bright and vibrant blend of sweet petit pois, peas and fresh mint in this protein soup.
Packed with green veg giving you a high fibre, high protein nutrient Boost with this refreshing and green delight.
Enriched with fresh mint, known for its gut soothing properties.
Great for a quick lunch.


Protein
Our protein soups ensure you get a protein boost whilst enjoying a delicious, natural, plant-based soup, rich in vitamins, minerals & fibre.
100% Plastic is Offset
We are proud to partner with our friends at CleanHub to help undo the damage to our Oceans ecosystems. We use 100% recycled and recyclable plastic, lowering our carbon footprint by 55%.
Flavour Profile
Sweet petit pois, spinach and mint with a zesty touch of lime, creating a refreshing and green delight.
Hand-Made
Hand-made in small batches, our soups are low in fat, dairy free, with no artificial preservatives allowing you to enjoy a natural plant-based soup rich in vitamins, minerals & fibre.
Ingredients.
PRESS endeavour to source the highest quality natural ingredients to create delicious, nutrient-rich soups.

Petit Pois
These small green peas are packed with vitamins and fibre, contributing to a well-rounded diet.

Garden Peas
Peas are a good source of plant-based protein, making them a valuable addition to vegetarian and vegan diets.

Spinach
Packed with iron, vitamins, and minerals, spinach is a nutrient-dense green that supports overall health.

Celery
Low in calories and high in water content, celery helps with hydration and contains anti-inflammatory properties.

Leek
With their mild, sweet flavour leeks are packed with vitamins, minerals, fibre, and antioxidants.

Lime
Offer a dose of vitamin C and a burst of citrus flavour, making them a versatile ingredient in various dishes and drinks.

Mint
Mint soothes digestive discomfort, making it a popular choice for teas and culinary applications.

Garlic
Known for its digestive benefits, ginger can alleviate discomfort and may reduce inflammation throughout the body.

Onion
Onions are highly nutritious vegetables and have several benefits, including improved heart health, better blood sugar regulation, and increased bone density.
Nutritional Information

Ingredients

Allergens

This product contains Celery and Gluten.

Made in a factory that handles nuts, sesame seeds, milk, soya and cereals containing gluten.

Delivery

Our delicious cold-pressed juices and cleanses are delivered directly to your home or office Monday - Sunday in specialised chilled packaging.

Standard Shipping is FREE over £45, otherwise £5.95.

Morning Delivery (pre 1pm guaranteed) - £7.95.

Storage Info

All your items will arrive in a chilled box, please refrigerate all products on arrival. All drinks will have a minimum of 7 days of shelf life when they reach you. Our soups will have a minimum of 5 days.

Once opened, keep refrigerated and consume within 2 days. Always refer to the expiration date of each product.

More Questions? Our friendly customer service team is always here to help