The Ultimate Vegan Breakfast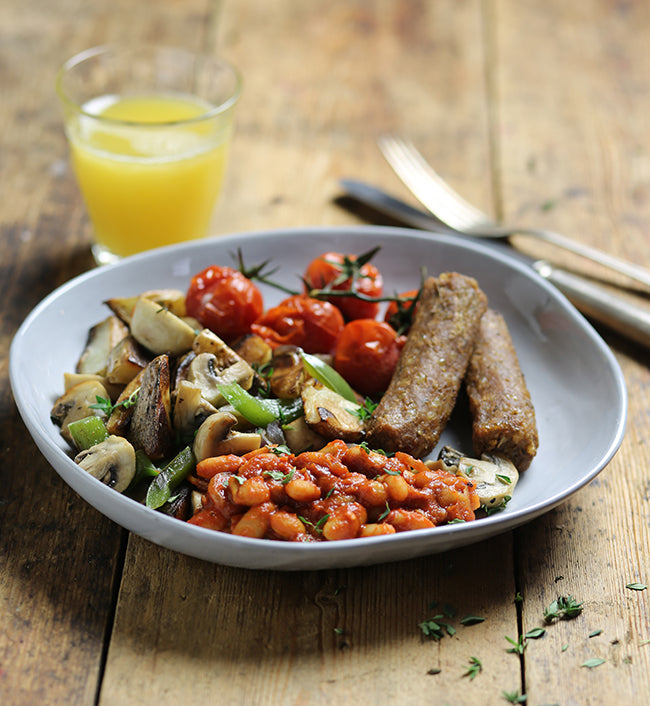 It's almost the weekend. Well at least we think it is, the days are all blurring into one. So if you've been working from home all week why not treat yourself to the ultimate vegan brekkie. 
We've pulled together the ultimate vegan breakfast - all with products now available at PRESS Grocery. 
Ingredients (serves 4, or two if you're feeling indulgent)  
1 Pack THIS Isn't Bacon
1 Pack Meatless Farm Sausages  
225g Cherry Tomatoes 
1 Pack Breakfast Avocado
200g Chestnut Mushrooms 
1 Loaf Gails Seeded Sourdough
Method; 
First up you'll want to slice your tomatoes in half, drizzle with a little oil, salt & pepper and roast at 180 for 20mins. (Giving them a little shake half-way through) Now trust me - if you can slow roast your tomatoes the longer the better - if you're ahead of the game follow this Nigella recipe (note you'll need to do this the night before)
If you're cooking the sausages in the oven, place them on a separate tray to the tomatoes and cook for 18-20mins (turning them half-way) 
Whilst the sausages and tomatoes are cooking it's on to the mushrooms and bacon. Slice the mushrooms in half and cook over a medium heat with a splash of oil. Once your mushrooms are done set to one side, giving your pan a wipe and a light oil cook the bacon. At PRESS we like it crispy and THIS bacon is the best we've found available. 
Now it's time to assemble. Toast up some thickly sliced sourdough, top with a dollop of breakfast avocado, plate up your mushrooms, crispy bacon, sausages and roast tomatoes. 
Sit back, enjoy that weekend sunshine and dream of the days when life is back to normal. 
If you're feeling extra fancy, pop open a bottle of our Emissary Prosecco with some cold-press OJ for the ultimate mimosa.