health
It's Official; We're Plastic Neutral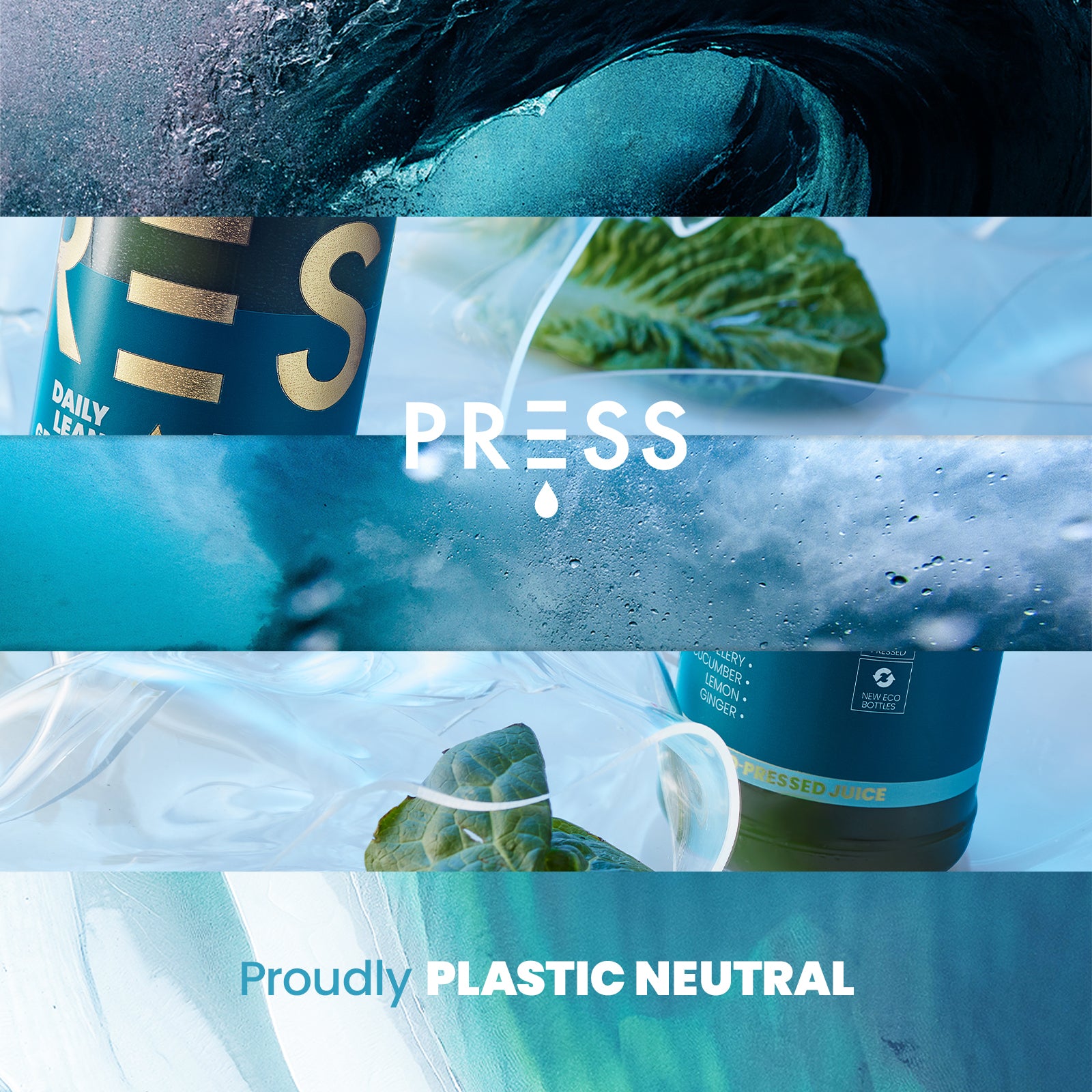 World Earth Day 2022 - Today PRESS is officially Plastic Neutral
PRESS x CLEAN HUB
On World Earth Day this year, we are proud to launch an incredible partnership with the amazing people at CleanHub. This will help clean up the oceans, create jobs for women's communities and be part of the first traceable, measurable and sustainable supply chain solutions for environmental plastic.

So what does plastic neutral mean? Well for every kilogram of plastic in our supply chain we will remove the same (and more) from the oceans.

We know we need to talk about plastic. It comes up a lot. Plastic is an amazing packaging material for many reasons - it's clean, it's light, it's relatively low in carbon footprint and it can be recycled. But we can all agree that as a planet, we have used it irresponsibly in many ways over the last 50 years and that it is not renewable. So it has to go...and we are working on it.

PRESS has always used leading edge plastic technology - in 2020 we reduced each bottle's carbon footprint by 55% and moved to 100% recycled and bio-plastic. But this isn't enough and we all have to do more. Better alternatives, better recycling programs, more government support in research and technology…we are on it…trust me. We talk about this everyday at PRESS and we often speak with companies developing new solutions.

We are really excited about this new programme because not only does it create jobs in frontier nations, it also helps to clean up the oceans, has a completely mapped supply chain and actually accomplishes what it promises. Rather than greenwashing which has become a real problem for brands and programs like this - luckily CleanHub Tech is mapped by block chain and a team that really cares.

Long term, we envision a world where biodegradable, recyclable materials eliminate the need for plastic entirely, but for now, we are determined to do everything we can to further that search.

Today, as a business that cares about our future, we are taking another proud step to be leading the way on this journey. Being a founder can be a difficult journey at times but what isn't difficult is listening to our teams, our customers and making decisions like this.

Thank you to everyone at PRESS for making this happen and for our amazing partners at CleanHub for changing our world. 
Click here to read more about our sustainability efforts
Ed Foy, CEO